How did you react to anti-smoking news articles or studies about new tobacco health concerns? Did you instantly change the channel, turn the page, or otherwise turn-off or tune out? I did.
But news that once fostered anxiety can now be beneficial, a source of motivation in helping you stay clean and free.
The latest? Quoting from a 2015 New York Times article reviewing new study findings: "smokers were about twice as likely to die from infections, kidney disease, respiratory ailments not previously linked to tobacco, and hypertensive heart disease, in which high blood pressure leads to heart failure. Smokers were also six times more likely to die from a rare illness caused by insufficient blood flow to the intestines."[2]
We watch as the clean indoor air movement is slowly sweeping the globe. Workers and non-smokers are demanding the right to breathe smoke-free air.
We watched as smoking was banned in airplanes, in New York's 843 acre Central Park, on all hospital property in nearly every major city, on community playgrounds, on hundreds of college campuses, at outdoor sporting events, on Hawaii's most famed beaches, and in every room in many hotels.
While we often now see smoke-free jails and prisons, and while inside a company owned or government vehicle, governments are now taking aim at a ban on smoking inside any vehicle transporting a child. And smoking is increasingly a factor considered in family court child custody, visitation and child abuse decision-making.
Science is awakening to the fact that there may not be any living cell in the entire human body that isn't touched and affected by tobacco toxins.
Where allowed by law, employers are beginning to openly discriminate in refusing to hire anyone testing positive, not for smoking, but for nicotine. Some are threatening to fire all current employees who test positive after being offered a reasonable period of time to stop.
Fuel and living costs are now rising faster than income in many nations. Millions of hooked parents are increasingly confronted with the choice of buying food for their child or nicotine for their addiction.
It's a situation made worse by cash strapped governments that have increasingly become dependent on tobacco taxes, and the dependability of nicotine's grip upon the taxpayer's brain.
Personally, it's offensive that most politicians either accept tobacco industry campaign contributions, or see those still enslaved as a highly dependable taxpaying cash cow. They just don't seem to get it. Or then, maybe they do.
At $15 dollars per pack, Australia is close to having the highest cigarette prices in the world.[2] It also has zero cigarette advertising nationwide, logo-less and colorless cigarette packs totally void of branding, and nearly the entire cigarette pack covered by photos of smoking diseases or dead smokers.
So how's all that working? Is the government succeeding in forcing Aussie smokers to quit? No.
Here in the U.S. we have no disturbing photos on packs, in most states you can still purchase a pack for less than half the cost in Australia, and it isn't unusual to see cigarettes being openly advertised and sold near schools.
What's fascinating is that the adult smoking rate in both nations in 2014 was roughly 17 percent. The bottom line? Coerced cessation doesn't work. So if you are thinking that it'll get easier if prices double, think again.
Although vaping is currently cheaper than smoking, with tobacco companies buying up e-cig companies, and governments increasingly concerned about both escalating youth e-cig use rates and vaping technology being used for delivery of illegal drugs, we have every reason to expect that the price difference to close.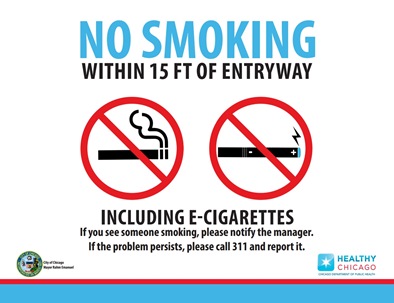 The vaping addict's dream of being able to tank-up inside public buildings is under heavy assault too, as governments at all levels are amending their smoke-free indoor air laws so as to treat e-cigarettes the same as cigarettes.
Let's face it, society will continue to increasingly see and treat the nicotine addict as a social outcast, leper, pariah, litterbug and loser. Imagine what it's like for the pregnant smoker.
Whether we accept or deplore the way society treats those still in bondage, news of the latest assaults upon them can used as motivation to prevent the assaults upon us.
---
---
References:
[1] Grady, D, Smoking's Toll on Health Is Even Worse Than Previously Thought, a Study Finds, New York Times, Health, Feb. 15, 2015. [2] Polito, JR, Australia's half-baked quit smoking campaign, November 30, 2013, WhyQuit.com
---
Content Copyright 2015 John R. Polito
All rights reserved
Published in the USA
Page created July 6, 2015 and last updated July 6, 2015 by
John R. Polito