"Disgusting and I can't quit"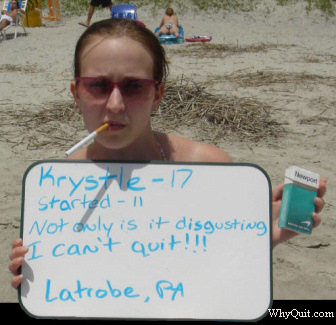 Imagine being Krystle, 17 and having already spent 6 years as nicotine's slave. Krystle doesn't smoke nicotine because she wants to, but because she must - because it hurts when she doesn't.
In fact, quitting smoking is so challenging that half of all of the adult smokers you see today will actually smoke themselves to death, each an average of 13 to 14 years early. Let's hope they find the quitting lessons here at WhyQuit and in Joel's Library before its too late.
---


The above photo is owned and was taken by John R. Polito on June 12, 2005. Please note that Krystle was age 17 when she consented to her photo's use in association with any not-for-profit non-commercial youth smoking prevention or cessation education effort, which John R. Polito agrees to as well, so long as the photo's use is accompanied by accrediation to WhyQuit.com. Link to higher resolution version.





Copyright &copy 2005 WhyQuit.com