Nicotine addiction isn't cool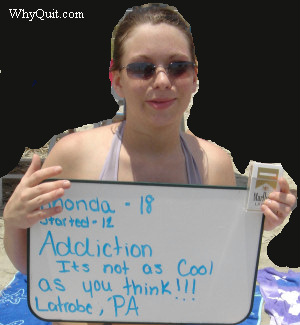 Almost 90% of new smokers are under the age of 19. Although as permanent and as much a mental illness as alcoholism, nicotine addiction is primarily an adolescent disorder. Still, the tobacco companies want students to believe that the smokers they see smoking each day smoke because they want to look cool.
Rhonda wants you to know the truth, that they have no choice. That they're true drug addicts. She wants you to know that being cool and being a true drug addict are two entirely different things. Rhonda should know. She has been trying to make regular mandatory public nicotine feedings look normal since age 12.
---


This photo is owned and was taken by John R. Polito on June 12, 2005. Rhonda has consented to her photo's use in association with any not-for-profit non-commercial youth smoking prevention or cessation education effort, so long as accompanied by accrediation to WhyQuit.com, in order to prevent downstream commercial use. Link to higher resolution version.





Copyright &copy 2005 WhyQuit.com