WhyQuit
|
Freedom
|
Turkeyville
|
Mission
|
Relapse

Disclaimer
|
Rules
|
Boards
|
Awards
|
Meters
Medical Disclaimer
This site is not meant to replace the advice of any physician. Do not rely upon any information that you read at WhyQuit.com or our two support sites, Freedom or Turkeyville (or that you obtain through posts, email or links), to replace consultations or advice received by qualified health professionals regarding your own specific situation. The information provided here at Freedom is intended as smoking cessation educational material only and it should NEVER be construed as medical advice.
If you have any question in your mind regarding any lingering health concern, including depression or mental health, IMMEDIATELY seek medical assistance. If you are not satisfied with the advice being rendered by a physician, you always have the right to obtain another medical opinion. We are not physicians or doctors but students and teachers of smoking/nicotine cessation.
It is also important for you to understand that WhyQuit's smoking cessation support forums are staffed entirely by cessation educators who are not physicians, pharmacists or dietitians. Further, both Freedom's and Turkeyville's Rules prohibit any member from rendering any medical advice to other members, from giving medication or herbal advice or recommendations, or from giving dieting or exercise advice or recommendations, other than the advice to seek the assistance of trained and qualified health care professionals.
There are organizations and individuals whose sites have disclaimers such as this to simply protect themselves legally. We have this policy because we believe it is right for every individual reading here. We do all we can to make sure that any information or concepts acquired here do not pose medical risks to readers.
If a person writes us or makes a post on the board that makes it clear that he or she is under a doctor's care for any medical related condition or for smoking cessation issues we are not going to comment on the course of treatment. Basically, writing and asking us about any medication issue, whether it is a medication that is supposed to be treating smoking or one that is treating any other condition is going to result on the post not being answered and likely deleted from the board.
If any member ever writes on the board or notifies Joel, John or any of Freedom's Management Team that their doctor or health care provider advises them not to quit smoking at this time or to follow a quitting plan other than cold turkey, the person shall lose membership and posting privileges.
When it comes to the treatment or management of any medical condition we sincerely believe that it is best for every person to deal with a qualified medical professional in their real world. The materials, concepts and information shared here allow readers to improve their health, and likely extend the productive years of their lives, by simply making and sticking to a personal commitment to Never Take Another Puff, Dip, Vape or Chew.
Links: Freedom posts may occasionally provide manager approved links to other Internet sites but Freedom's managers are not responsible for the availability or content of any other site, nor do they each individually endorse, warrant or guarantee the accuracy of the information at any other internet site, including sites maintained by managers or members in other capacities.

managers@whyquit.com - Freedom's Staff

facebook@whyquit.com - Turkeyville's Staff
How to Quit Smoking
---
Our Free Quitting E-books
Read both books & demolish quitting anxieties!
---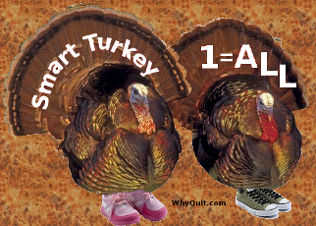 Learn More About Smart Turkey Quitting
Knowledge is a Quitting Method