"I'm hooked"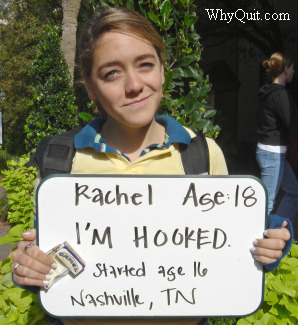 A 1/2 a pack-a-day addict, Rachel's message is simple: "I'm hooked." But what does it mean to be hooked? Every two hours the amount of nicotine remaining in Rachel's bloodstream falls by half. She has two choices. She can either replace the nicotine or begin to sense the onset of early chemical withdrawal, a process that peaks in intensity within 72 hours.
Withdrawal symptoms vary greatly but may include anxiety, irritability, anger, depression, headaches, powerful crave episodes, an inability to concentrate, difficulty sleeping, chest tightness, vomiting, constipation, and fatigue.
---


The above photo is owned and was taken by John R. Polito on November 17, 2005. Rachel has consented to her photo's use in association with any not-for-profit non-commercial youth smoking prevention or cessation education effort, which John R. Polito agrees to as well, so long as the photo's use is accompanied by accrediation to WhyQuit.com. Link to higher resolution version.





Copyright &copy 2005 WhyQuit.com