"I've tried quitting and can't"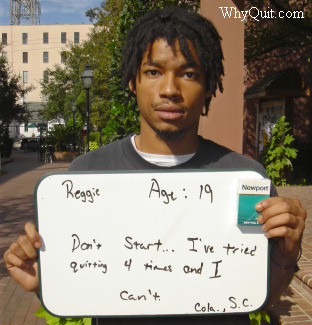 Reggie's admission that he's hooked is a critical first step toward permanently arresting his dependency.
The tobacco industry spent $14 billion dollars last year brainwashing children and teens into believing that smokers smoke for every reason imaginable except the truth. They refuse to warn youth that almost all daily smokers are already addicted. They want Reggie to believe that, at worst, all he has is a "nasty little habit." Treating a true addiction as a habit is a recipe for relapse and lifetime captivity. Like alcoholism and taking a sip, when quitting there is no such thing as just one cigarette or one puff. Just one rule - Never Take Another Puff!
---


This photo is owned and was taken by John R. Polito on November 17, 2005. Reggie has consented to his photo's use in association with any not-for-profit non-commercial youth smoking prevention or cessation education effort, which John R. Polito agrees to as well, so long as the photo's use is accompanied by accrediation to WhyQuit.com. Link to higher resolution version.





Copyright &copy 2005 WhyQuit.com