It gets harder and harder to quit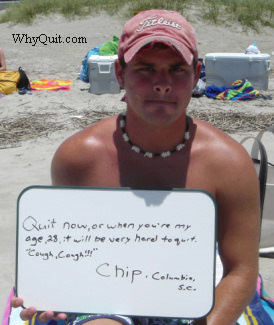 Chip's college roomate gave him that first fateful cigarette. It was while tailgating before the Ball State vs. South Carolina football game in 1998. Not only would the U.S.C. fighting Gamecocks lose their next 21 straight football games, Chip would find himself a slave to smoking nicotine.
A pack-a-day smoker of a Philip Morris brand called "Basic," Chip has repeatedly tried to quit smoking and failed.
---


This photo is owned and was taken by John R. Polito on June 9, 2005. Chip has consented to his photo's use in association with any not-for-profit non-commercial youth smoking prevention or cessation education effort, as does John R. Polito, so long as the photo's use is accompanied by accrediation to WhyQuit.com. Link to higher resolution version.





Copyright &copy 2005 WhyQuit.com