True friends wouldn't let you start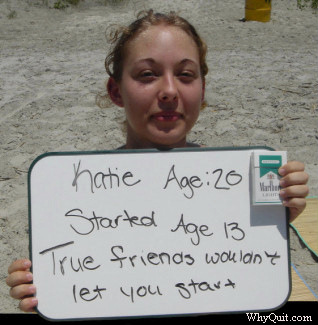 Katie is from Summerville, S.C. Although experimenting a bit sooner, she was hooked solid by age 13. Her older sister begged her and actually paid her $5 dollars to smoke her first cigarette. Just 20, Katie has now been addicted to smoking nicotine for so long that she simply cannot begin to imagine life without her nicotine induced dopamine/adrenaline high.
---


The above photo is owned and was taken by John R. Polito on November 17, 2005. Katie has consented to her photo's use in association with any not-for-profit non-commercial youth smoking prevention or cessation education effort, as does John R. Polito, so long as the photo's use is accompanied by accrediation to WhyQuit.com. Link to higher resolution version.





Copyright &copy 2005 WhyQuit.com