Lung Cancer & Lung Disease
Support Groups



American Cancer Society's Lung Cancer Survivors Network





HealthBoards Lung Cancer Message Board





CancerCompass Lung Cancer Discussions





LUNGevity Foundation Forum





Lung Cancer Alliance Survivors





Association of Cancer Online Resources





Daily Strength COPD & Emphysema Support Group




---
World and National Cancer, Lung
Disease & Circulatory Organizations
WARNING Although much of the information at the below national and world health sites will be beneficial to those seeking to end their chemical dependency upon nicotine, many organizations receive large financial contributions from those selling clean nicotine delivery devices and their literature often strongly advocates gradual nicotine withdrawal via nicotine replacement products to all visitors. If you have remained 100% nicotine free for 72 hours then your blood is now 100% nicotine free, and your symptoms of chemical withdrawal have peaked in intensity and are now beginning to gradually subside. The best way to guarantee that your cycle of physical withdrawal is a never ending story is to again allow nicotine back into your blood. This is the "Law of Nicotine Addiction." All OTC NRT studies conducted to date, a recent "real world" NRT study, and a September 2002 study published in the Journal of the American Medical Association, indicate that the concept of gradual nicotine withdrawal is not an effective means of breaking nicotine's grip upon your life.
American Cancer Society
American Heart Association
American Lung Association
Australian Cancer Council
Australian Lung Foundation
British Heart Foundation
British Lung Foundation
Canadian Cancer Society
Canadian Lung Association
Heart Foundation of Australia
New Zealand Cancer Society
National Cancer Institute - U.S.
World Health Organization
World Heart Federation
---
Please report dead links and e-mail link recommendations to:
links@whyquit.com
Thanks!
---
How to Quit Smoking
---
Read our free quitting e-books
Read both and watch knowledge destroy quitting anxieties!
---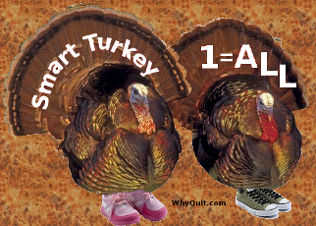 Learn More About Smart Turkey Quitting
Knowledge is a Quitting Method