Is your friend already addicted?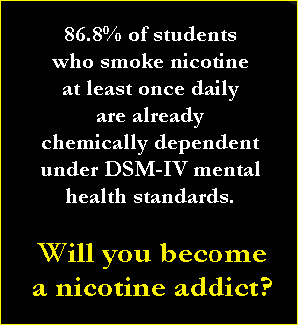 Among 207 smokers who claim to remember how many cigarettes they smoked before they sensed their brain issue that first urge or crave command to smoke again, 78 or 37% claim that their first crave happened after smoking from 1 to 6 cigarettes. Although hard to measure, a student's loss of control over smoking can begin to occur after smoking that first cigarette.
What a 2007 study was able to prove is that new student smokers can begin to feel powerful desires for nicotine within two days of that first puff ever. Once chemically addicted to using nicotine to steal dopamine, it quickly becomes the student's new #1 priority in life, more important than school work, non-smoking friends, breathing, running, truth, honesty, or the ability to smell or taste. Why risk permanent addiction?
---


The above .jpg image was created on June 19, 2005 by John R. Polito and he hereby fully consents to its use in association with ANY smoking prevention or cessation education effort.





Copyright &copy 2005 WhyQuit.com