---
This page is no longer being maintained and is for historical reference only. Visit the FDA's Chantix Information page for Chantix changes and updates.
FDA pulls video clip
admitting Chantix suicide link
Note: On some unknown date prior to June 17, 2008 the FDA decided to restore and put back the original video clip which is now functional at FDA Patient Safety News.
John R. Polito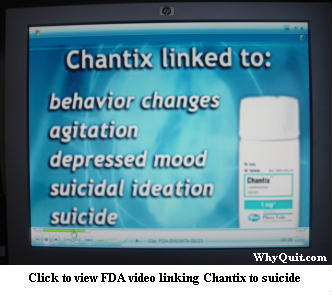 On Tuesday, FDA Patient Safety News released a video clip sharing warnings about "serious neuropsychiatric problems" in users of Pfizer's quit smoking pill Chantix, including suicide. Featured yesterday in a WhyQuit article exploring concerns raised by the video, this morning FDA site links to the clip were no longer functional.
The FDA has yet to respond to inquiry as to why the video clip was pulled and whether or not Pfizer played any role in the FDA's decision to do so.
A copy of the pulled FDA Chantix clip is being made available for viewing at WhyQuit. WhyQuit shares this clip based upon the FDA's Patient Safety News website assertion that, "FDA Patient Safety News is a product of the US Federal Government, and as such is NOT copyrighted or restricted in any way. We encourage the further use and distribution of the video or text of the program by anyone - either in its entirety or as individual stories."
In a separate development, it's reported that Public Citizen, a non-profit Washington based consumer protection watchdog, has called upon the FDA to require a "black box" warning label for Chantix due to suicide and other behavioral risk factors. Reserved for drugs linked to serious or life-threatening adverse events, a "black box" warning is the strongest warning mandated by the FDA.
XXX
No Copyright - This Article is Public Domain
Last updated April 4, 2008 at 11:48 EST
Other WhyQuit Varenicline Articles
How to Quit Smoking
Our Free E-books
Read both & destroy fear driven anxieties!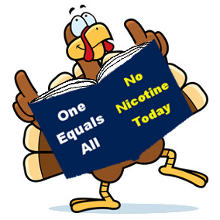 Discover Smart Turkey Quitting
Knowledge is a Quitting Method