ITC sustainability award for
India's million smoking deaths
Question: How many millions of lives did ITC corporate greed kill during 100 "inspiring" years? Why is it permitted inside India's schools? Click image for higher resolution.
India is home to 12% of the world's smokers (120 million), nearly one million annual smoking related deaths, and arguably the world's most brazen tobacco company, ITC Limited.
ITC Ltd was originally known as Imperial Tobacco Company and then India Tobacco Company. But name changes cannot hide the fact that 82 percent of 2012-13 ITC profits came from cigarette sales. Nor can it hide British American Tobacco's 30% ownership of ITC.
ITC's website boasts, "ITC is the market leader in cigarettes in India. With its wide range of invaluable brands, ITC has a leadership position in every segment of the market. ITC's highly popular portfolio of brands includes Insignia, India Kings, Lucky Strike, Classic, Gold Flake, Navy Cut, Players, Scissors, Capstan, Berkeley, Bristol, Flake, Silk Cut, Duke & Royal."
"Invaluable" brands? "Highly popular"? What ITC website visitors are not told is that smoking nicotine is highly addictive, that 80-90 percent of all lung cancers are attributable to smoking, or that 40-50 percent of ITC's nicotine addicts smoke themselves to death, with up to one-quarter dying during middle-age.
ITC sells 80 percent of India's cigarettes. Reflect on the hypocrisy of ITC's campaign to become India's award winning environmentally friendly corporate sustainability champion, while also being the #1 corporate killer of Mumbai, Delhi, Bangalore, Hyderabad, Ahmedabad, Chennai, Kolkata, Surat, Pune and Jaipur inhabitants.
A master at smoke-screens, it gets worse.
A spoof image by Dr. Pankaj Chaturvedi mocking India's 2014 Classmate national spelling bee sponsored by ITC. Click image for a higher resolution copy.
ITC is sponsoring India's national Spelling Bee. ITC is doing so using its "Classmate" (school notebooks) product line. ITC launched its Classmate product line in 2003, the same year cigarette advertising was banned in India.
On Feburary 25, 2014, one brave school district, Chennai - 9, evidenced the courage and leadership to order that its schools obey Tamil Nadu Governor's Order No. 242, in forbidding its schools to participate in ITC's Classmate spelling bee.
Signed September 26, 2012, G.O. 242 states in part that "No educational institution is permitted to participate through its students ... [in] activities that promote any tobacco company, [including through] non-tobacco products ..." The Order became necessary after ITC's 2010-11 Sunfeast Milky Magic All Rounder campaign, which gathered personal contact information from students in grades 4 through 9 in 500 Tamil Nadu schools, including student telephone numbers and email addresses.
Clearly, both the Classmate product line and a cigarette company sponsoring a national spelling bee are intended to inspire student trust and confidence in ITC, the exact opposite lesson from what India's students should be learning.
Correct lessons would be that 37% of India's children have experimented with smoking by age 10, that the mean age of smoking initiation is 12, and that the vast majority of newly addicted ITC smokers are children and teens.
ITC's corporate logo appears on every Classmate notebook sold. Daily exposure to it burns corporate trust and loyalty archetype subconscious imprinting into the student's mind, imprinting that may remain with them for life. ITC knows that students will eventually discover that their trusted school supplies provider also sells cigarettes. It knows that a deep sense of corporate trust will eventually increase the odds of the adolescent experimenting with ITC cigarette brands.
The correct lesson is that India expects 1.5 million annual tobacco related deaths by 2020, and that the maker of Classmate notebooks, ITC, is a "real" drug pusher that has been made rich through chemical addiction to smoked nicotine; that ITC is an ethicless entity selling a weapon of mass destruction.

Click to enlarge
A correct lesson would be that while ITC Chairman Deveshwar has done a masterful job wrapping ITC in the finest clean technology in the world, what he cannot do is wash from ITC's hands the blood of the millions and millions of Indians ITC's cigarettes have killed over the past 102 years.
Mr. Deveshwar knows that one million India smokers are not smoking themselves to death each year because they are stupid. He knows that they do so because their brain dopamine pathways were taken hostage by nicotine, assigning nicotine use the same priority as they assign to eating food.
Mr. Deveshwar knows but keeps hidden the fact that nicotine addiction is "real" drug addiction, that the wanting, urges and craves felt by the nicotine addict flow from the same dopamine pathways as the wanting felt by the alcoholic, heroin, cocaine or methamphetamine addict.
A responsible and friendly corporation? Hogwash. Key warnings such as smoking being addictive or causing cancer are conveniently missing from ITC's website. Unlike ITC, Marlboro's maker Philip Morris International does not hide the fact that it is in the nicotine addiction business or that getting hooked often proves deadly.
At a minimum, an honest ITC would bifurcate its corporate structure so that its non-nicotine activities and corporate management were totally independent from its drug addiction business. At a minimum, ITC would teach children and teenagers that smoking nicotine is highly addictive, that studies have found that smoking just once or twice can cause the onset of urges that rob a teenager of the free-will and autonomy to turn and walk away, and not smoke nicotine again.
As for smoking cessation, is it coincidence that ITC announced in October 2013 that it would begin selling nicotine gum, when findings from a July 2013 U.S. Gallup Poll suggested that nicotine gum is a quitting fraud? That poll found that after 30 years on the market and billions spent advertising nicotine gum, that only 1 in 100 U.S. ex-smokers credited it for their success. Truth is, it is impossible for the brain to adjust to functioning without nicotine while it continues to arrive.
Click image to enlarge
Is it coincidence that ITC's Wills cigarette brand logo was used in creating its Wills Lifestyle clothing line and store signs? And is it chance that Players is both an ITC cigarette brand and a youth fashion clothing line? Is it simply happenstance that India's #1 nicotine addiction peddler seeks a continuing presence, and a trust and confidence image, inside every school in India?
Please help spread the word. Tying students, their notebooks, clothing, spelling bees and trust to a nation's leading cigarette company is intolerable in a civilized society.
Article Updates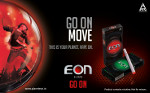 Click image to enlarge
August 15, 2014 - ITC enters the e-cigarette market launching its Eon e-cig brand at its PlanetEon website. Click to enlarge and look closely at the young boy pictured in this Eon marketing image, an ad guarding entry into ITC's PlanetEon. Intentionally taking aim India's teenagers, the ITC ad steals from PMI's "Be Marlboro" ad campaign in appealing to the adolescent desire for exciting yet reasonably safe risk-taking fun with the command to "Go On Move. This is your planet. Vape on."
Teens can buy Eon ecigs online for only Rs 300, where they are told that "EON gives you the 'pleasure of smoking' without actually smoking virtually anytime anywhere. Powered by Nico-Flo technology, EON comes with the unmatched promise of quality that ITC is famed for. Enjoy a superior vaping experience with unique flavours created by the master blenders of ITC. Get ready to make a statement by flaunting the stylish 'Trigger Pack' which will surely add to your cool quotient and make you the talk of town."
I, John R. Polito, am solely responsible for the content of this article.
Any factual error will be immediately corrected upon receipt of credible authority
in support of the writer's contention. E-mail comments to
john@whyquit.com
Please share this WhyQuit India ITC smoking article
Related Industry Marketing Articles
How to Quit Smoking
Our Free E-books
Read both & destroy fear driven anxieties!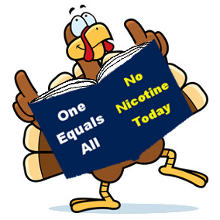 Discover Smart Turkey Quitting
Knowledge is a Quitting Method