Marlboro maker's report ignores youth addiction
No "maybe" about it, Philip Morris International's 2013 annual report celebrates selling 12 billion more cigarettes during 2012.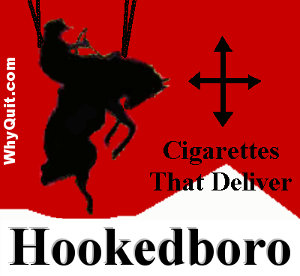 What if you were tasked with writing the annual shareholder's report for the largest cigarette company in the world, Philip Morris International (PMI)? How would you describe the core foundation of PMI's business, nicotine addiction? And how would you handle the fact that during 2012 the vast majority of new regular customers were addicted children and teens?
Nicotine dependence is a true mental illness, a brain wanting disorder in which compromised dopamine pathways assign nicotine use the same priority as they assign to eating food.
The wanting, urges and craves felt by the nicotine addict flow from the same brain circuitry as the wanting, urges and craves felt by the alcoholic and by the opiate, cocaine and methamphetamine addict. It is as permanent as alcoholism and there is no known cure.
There was a time when Philip Morris was comfortable with the mantra that smoking is a "free-choice" activity. But that assertion is now totally inconsistent with its website admission that "smoking is addictive." It's also inconsistent with studies showing that 86.8 percent of students who smoke nicotine at least once daily are already chemically dependent under DSM mental health standards, as are 90 percent of adult smokers.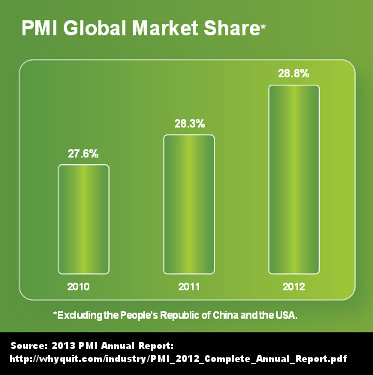 While Philip Morris's 2012 Annual Report makes 176 references to "earnings" and 192 to "income," the word "nicotine" is mentioned just 5 times, and never in relation to addiction, but only as a chemical within cigarettes.
Instead, PMI proudly boasts "robust performance" and "spectacular results" by "the most profitable publicly traded tobacco company in the world."
What's actually being sold (chemical addiction) is treated as top secret. What isn't kept secret is the new 2012 marketing campaign that "is proving successful and contributed to the market share growth of [PMI's] flagship brand in 2012."
Marlboro "maybe" ads bring Philip Morris' "1991 Archetype Project" to fruition as neuronal pathways are built between a child or teen's dreams of success and a wonderful life, and the act of smoking Marlboro: "Maybe never fell in love," "Maybe never wrote a song," "Maybe never learned to fly," "Maybe never reached the top," "Maybe never rocks," "Maybe will never be her own boss," "Freedom does not start with a maybe," "Maybe never feels free," "Maybe never found a way," "Maybe never will," "Maybe never wins," Don't be a maybe," No more maybe, "Be."
"Our growth is testament to the resilience of our business," "organic cigarette shipment volume reached 927 billion units, an increase of 1.3% versus 2011," PMI asserts on page 1.
But what percentage of that increase was associated with youth smoking? According to the Centers for Disease Control, 88% of adult smokers who smoke daily report that they started smoking by the age of 18 years.
The words "teen," "teenager," "adolescent" and "student" do not appear in PMI's 98 page report. The word "child" is mentioned once, in regard to "child labor" on page 35, and the word "children" appears three times but not once in relation to children smoking.
The report does mention "youth" eight times: (1) page 29 refers to the World Health Organization's goal "to prevent youth smoking"; (2) page 30 twice asserts that plain cigarette packs now required in Australia will not reduce youth smoking; (3) page 31 claims that government bans on cigarette ingredients will not reduce youth smoking; (4) on page 32, PMI agrees to a ban of any cigarette ingredient that "sound scientific testing, methods and data" proves will "significantly increase" "youth smoking initiation"; (5) on page 33 PMI denies any relationship between a cigarette's design and "youth smoking initiation"; (6) on page 34 PMI throws students a bone in supporting a ban on smoking in schools and other youth facilities; and (7) on page 34 it wants governments to more strictly enforce laws against illicit tobacco products in order to protect youth from being exposed to cheaper cigarettes.
Yes, 8 youth references but only two in which PMI pretends corporate concern for the world's youth: one totally obvious and the other promising PMI greater profits.
Absent is any leadership by the world's leading cigarette seller in moving to insulate the world's children from both the conscious and subliminal influence of Marlboro's Maybe ads, from PMI's "Go Ahead" brand, and from all other Philip Morris marketing that repeatedly assaults, teases, entices and then enslaves.
The 2012 Annual Report's marketing tactic is to distract readers from the true nature of PMI's business by focusing attention on the happy faces of PMI employees. In the words of PMI's CEO, "Our company is blessed with a diverse pool of superb talent that, with unwavering passion and commitment to excellence, is the driving force behind our performance."
Hidden from those many pages of smiling faces are the millions of newly addicted youth who smoked most of the 12 billion additional cigarettes that PMI boasts selling.
One would think that investors would shy away from investing in the legal drug addiction business, an industry totally dependent upon enslaving young, gullible and immature minds. But apparently, for many, money is more important than concerns about chemically enslaving children for life.


Philip Morris International Annual Shareholder Reports

Related Philip Morris Reading
Related Articles
Share this youth smoking prevention article
How to Quit Smoking
Our Free E-books
Read both & destroy fear driven anxieties!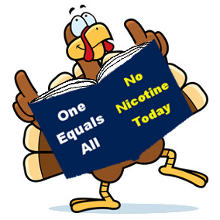 Discover Smart Turkey Quitting
Knowledge is a Quitting Method