"What's it like using varenicline?"
On May 11, 2006 the U.S. Food and Drug Administration (FDA) announced approval of the prescription drug varenicline, to be sold under the trade name Chantix. Interestingly, in the U.S. the FDA refused to approve Pfizer's use of the name "Champix" asserting that from a promotional perspective, "it is overly fanciful and overstates the efficacy of the product."
Today, Pfizer markets varenicline in all nations except the U.S. as Champix. Total global annual revenues during 2010 were $755 million (up from $700 million in 2009), with $330 million of those sales occurring in the U.S.
Still, for some, varenicline does have potential to both diminish wanting and decrease the rush sensed while still smoking during the first week of pre-quitting Chantix use. But, clearly there's a trade-off for those unable to avoid, move past or endure one or more of the nearly 200 potential side-effects listed on Pfizer's "Full Prescribing Information" sheet.
Prior to January 18, 2008. Pfizer's Patient Information sheet only mentioned vomiting, nausea, abnormal dreams, sleep disturbance and constipation as "the most common side effects." It failed to alert smokers to less frequent yet vastly more serious risks mentioned on varenicline's Full Prescribing Information Sheet, including suicidal thoughts, hallucinations, psychotic events, kidney failure, joint pain, muscle pain and arthritis.
Varenicline is a partial agonist that activates release of 35 to 60% of the dopamine that nicotine would have caused to flow if sitting on the exact same acetylcholine receptors. Being that varenicline is in pill form, if taken regularly it is present and occupying these receptors 24 hours a day.
In theory, within 4-5 days of taking Chantix and achieving "therapeutic levels," smoked bursts of nicotine arriving in the brain (which would normally generate a sense of relief from brain dopamine pathway wanting) should find most acetylcholine receptors already occupied.
One user described the expected yet missing wanting relief sensation as though "smoking a carrot." It's why Pfizer asserting that Chantix studies were "blind," that participants could not tell which group they had been randomized to (Chantix or placebo look-a-like sugar pills), is wishful thinking.
For many, it's not a matter of "guessing" whether or not a foreign chemical is present and at work inside their brain. A 2011 study suggests that possibly as many as 75 percent knew things were different, and they knew it before ever quitting smoking.
Although possibly less so than with nicotine patch, gum or lozenge use, Chantix quitters may experience some degree of back-end withdrawal syndrome upon ending varenicline use, as they attempt to re-adjust to natural dopamine pathway stimulation.
Pfizer, in its zeal to generate sales, continues to fail to adequately alert smokers and users to the rather important fact that half of clinical trial users who successfully used varenicline for 12 weeks, relapsed to smoking within a year.
While Pfizer does an outstanding job of explaining how varenicline occupies nicotine-type acetylcholine receptors, thereby blocking nicotine's ability to occupy the same receptor, it makes no attempt to explain what will happen should they inhale just one powerful puff of nicotine once Chantix/Champix is no longer present and blocking those receptors.
Pfizer marketing treats the topic of continued smoking while taking varenicline far too lightly (what it candy-coats as a "slip up"), thus setting the stage for relapse.
The message Pfizer should be pounding home is that after ending varenicline use, that just one puff and up to 50% of brain dopamine pathway receptors will become occupied by nicotine. While most walk away feeling like they've gotten away with "cheating," the mind's pay-attention pathways will soon make having done so nearly impossible, in the short term, to forget. Their entire Chantix experience will have been for naught, as their brain will soon be wanting or even begging for more nicotine.

Inflated success rates

Pfizer's five initial clinical trials of varenicline were published in July and August 2006. Three are comparable in that they involved a 12-week treatment period using 1mg of Chantix twice daily. In the Chantix study headed by Gonzales, 21.9% of Chantix users were still not smoking at one year. In Oncken the rate was 22.4% and in Jorenby 23%.

That's an average one-year rate of 22% or, on the flip side, a relapse rate of 78%. But these rates were achieved under highly artificial clinic study conditions. History and common sense teach that use under real-world conditions will likely generate a significantly higher failure rate. The question is, how high?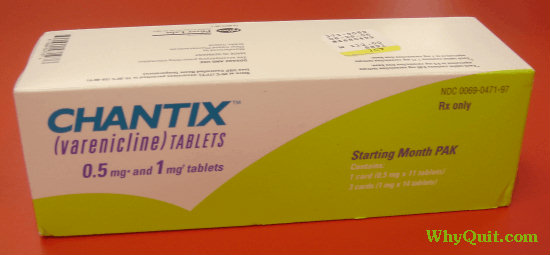 Pfizer funded and co-authored the five initial studies and was involved in all study elements including design and monitoring. It spared no expense in creating what may be the most intense clinic quitting experiences ever.

Frankly, it's surprising that the intensity of support and interaction did not produce even higher rates. Real-world quitters, alone with their pills, or even participating in Pfizer's "GetQuit" support plan, will be fighting under entirely different battlefield conditions. What was it like inside an early Chantix study?

Users received their Chantix for free in all clinical trials. They were reimbursed travel expenses associated with clinic visits. They attended sixteen clinic visits involving brief one-on-one sessions with counselors trained in motivation and coping skills development. They received up to eight follow-up telephone support calls from their varenicline provider. In the earliest trials, they received two full physical exams, pondered the significance of a stream of questions in provider administered surveys, had their urine and blood checked seven times, sensed the seriousness associated with undergoing six EKGs, and watched their weight, vital signs and expired carbon monoxide breath tests recorded sixteen times.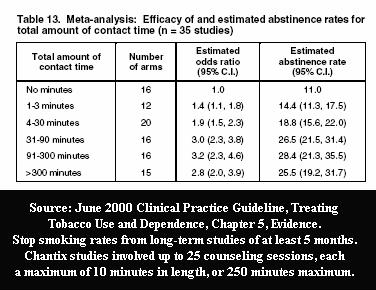 How much of Chantix's 22% one-year quitting rate is due to Chantix and how much attributable to the 26 times in the Jorenby study that participants spent up to ten minutes with their Chantix provider? How many real-world quitters will have the support benefit of 200 to 300 minutes with trained stop smoking counselors or their prescribing physician? Any? If so, at what financial cost? If not, at what cost in terms of performance?

England's National Health Service (NHS) Stop Smoking Services (SSS) offers nationwide ongoing individual or group smoking cessation counseling and support that likely comes closest to the intensity and quality seen in Pfizer's studies. NHS also offers free varenicline (in the UK marketed as Champix). But NHS monitors and shares 4-week quitting rates, not 12-week rates like Pfizer. There's one other major difference. There are no placebo users in NHS SSS programs as placebo isn't a real quitting method.

According to 2010-11 UK NHS SSS nationwide data findings, four weeks after quitting 50 percent of non-medication quitters were still not smoking compared to 59 percent of varenicline users and 45 percent for NRT quitters (see 2011 XLS Tables, Chapter 4, Table 4.4).