WhyQuit
|
Freedom
|
Turkeyville
|
Mission
|
Relapse

Disclaimer
|
Rules
|
Boards
|
Awards
|
Meters
The Law of Addiction: Administration of a drug to an addict will cause reestablishment of chemical dependence upon the addictive substance.
Freedom's Relapse Policy
Freedom's relapse policy is simple. Once we understand the Law of Addiction it deprives us of any legitimate excuse for relapse. Any member who relapses shall permanently lose posting privileges.

NEVER TAKE ANOTHER PUFF, DIP OR CHEW!

NO NICOTINE EVER!


Adopted 11/08/02

Freedom's Staff
How to Quit Smoking
---
Our Free Quitting E-books
Read both books & demolish quitting anxieties!
---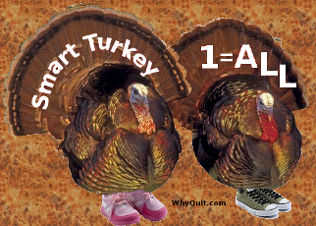 Learn More About Smart Turkey Quitting
Knowledge is a Quitting Method