Freedom's Courtesies & Rules
Members are limited to one Freedom membership per lifetime. Continuing membership is conditioned upon compliance with the below forum Rules within all member posts and within their Freedom Yuku profile, and adherence to Freedom's Relapse Policy.
Forum Courtesies
SUPPORT - A support group is a two way street of both giving and receiving. There is no support without givers. It feels great when a post of support is acknowledged.


CRISIS POSTING - Post to Freedom's Support Request message board should you ever feel that your recovery is threatened. Don't head for an ashtray, a pack, any nicotine delivery device, a smoker or store. Head for Freedom and share a quick and simple post seeking help. Also, once the threat has passed be sure to immediately post back so that members are not left with the false impression that your crisis continues. Our Support Request message board should reflect the true current state of affairs.
POSTING TO CRISIS POSTS - Members are asked to immediately cease posting to any crisis thread once the member posts back indicating that the crisis has passed.
GIF OR IMAGE SIZE - Many members have very slow computer connection speeds. If the combined size of all the images on a thread page is too great, opening the page can take minutes and become very discouraging. Please limit the combined size of all images you use within any one post to a thread to about 20,000 bytes. Each thread page holds 15 posts. If all posts contained the maximum of 20k it would require members using slow dial-up modums to wait for 380k in images to open. Right click over any image and then click "Properties" to learn its size.
1ST POSTS/JOURNALS/DIARIES - We encourage new arrivals to make their initial post a permanent log and diary that not only allows you to quickly review and assess your recovery progress but will also allow Freedom's members to easily review your progress and render meaningful assistance. Remember, all member posts must relate to recovery whether on Freedom's message boards or on your Freedom profile page.
Forum Rules
RELAPSE PERMANENTLY REVOKES POSTING PRIVILEGES - Members are limited to one Freedom membership per lifetime. See Freedom's Relapse Policy.
MEMBERSHIP REQUIREMENTS CONTINUE - Freedom is an abrupt cessation cold turkey forum. Use of any product or procedure after joining, which would have prohibited Freedom membership at the time of joining (see Freedom's How to Join page), will result in loss of posting privileges.
NO MEDICAL ADVICE - Members may not solicit or render medical advice, nor invite members to comment on the appropriateness of treatment or medications. While the site openly shares information regarding symptoms commonly experienced during withdrawal and recovery, no member can know for certain whether any symptom being experienced by a member is or is not related to quitting. If you have any question in your mind regarding any lingering health concern, including depression or mental health, seek medical assistance. If not satisfied with your physician's advice seek a second opinion. We are not physicians or doctors here at Freedom but students and teachers of nicotine cessation.
NO POSTS CONTRARY TO PHYSICIAN ADVICE - Freedom posting privileges shall be immediately terminated if a member posts or notifies management that their doctor or health care provider advises them not to quit smoking at this time, or to follow a quitting plan other than cold turkey. Allowing any member to remain following such a disclosure would mean that this forum is acting contrary to the physician's advice. Freedom exists to support, not replace, the relationship that exists between a site visitor or member and his/her physician. Do not rely upon any information at this site to replace individual consultations with your doctor or other qualified health care provider.
NO SMOKING SUBSTITUTE QUITTING AIDS - Whether herbal or nicotine-free, use of any inhalation product or device as a substitute for the act of smoking is prohibited. Freedom is an abrupt cessation site both as to the physical and psychological aspects of dependency. Substitutes can mimic and prolong psychological dependency. Additionally, some inhalation products claiming to be nicotine-free have been found to contain nicotine. Staff may treat a violation of this rule as a violation of Freedom's Relapse Policy, with the member losing posting privileges.
NO MEDICATION, HERB, EXERCISE OR DIETING RECOMMENDATIONS - Members are not permitted to render advice or make recommendations on these topics, whether on Freedom's message boards or on your profile page. If you have specific health concerns, medication or herb questions, or need exercise or dieting assistance, please seek the assistance of qualified professionals. Freedom is a nicotine cessation forum staffed entirely by cessation educators who are not physicians, pharmacists or dietitians.
HURT FEELINGS - MEMBER ATTACKS - Words on a screen are not always received in the same spirit and tone as intended. Most of us are not professional writers or skilled communicators. If you ever feel hurt, offended or concerned by any Freedom member post, comment or message please contact Freedom's managers at managers@whyquit.com.
OPINION DEBATES - Freedom is a nicotine free Cold Turkey support group. We know who we are! Our message boards are for giving and receiving support. It is not a place to engage in debate over Freedom's approach to cessation, to attack or vilify those within the tobacco or pharmaceutical industry, or to debate our tough love approach to relapse, the merits of specific tobacco control measures, or any other topic that does not support nicotine cessation or prevention.

RELIGIOUS REFERENCES - Freedom's members come from the world stage where, whether we like it or not, serious religious conflict divides people, nations and regions. Religious divisions and debate are contrary to the unity and focus needed to foster the unconditional group cohesiveness needed to meet the education and support needs of all members. While members are free to mention or thank God or a higher power, references that identify a particular religion or that reference specific religious teachings are not permitted.
PROFANITY - Freedom is a family channel with teens and children around the world being encouraged to visit and learn what nicotine dependency is all about. Neither profanity nor implied profanity (missing letters) will be permitted. In marketing Freedom as a youth dependency teaching tool our definition of profanity is rather broad. Generally, if you would question or hesitate using the word while addressing a large group of ten-year-olds then we ask that you refrain from using it at Freedom. Please refer to our email welcoming you to Freedom for a sample list of prohibited words.
ALCOHOL AND OTHER DRUGS - Freedom is a drug addiction recovery site. Some of our members have multiple drug dependencies which they may or may not have under arrest. Celebratory use references to alcohol or other drugs are not permitted. For example, we do not toast success at ending nicotine use by references to consumption of alcohol.
PERSONAL ISSUES - If any member ever feels that their quit is threatened by a factual situation then feel free to share the basic facts in your request for help. Posting details associated with personal issues, relationships, or controversial lifestyle choices or that express personal opinions on such issues as religion, gambling, drinking, drug use, marital problems, premarital or extramarital affairs, sexual orientation, sex, gun control, child rearing problems, caring for the elderly, politics, and a host of other real life issues, does nothing to promote Freedom's mission and is not appropriate. Such real life issues exist for all of Freedom's members. No one should ever feel that their inability to air such issues will in any way impede his or her ability to stay nicotine-free.
GENERAL SOCIALIZATION - Freedom's message boards (and member profile pages) are reserved for giving and receiving nicotine cessation support and not for general socialization or unrelated chatter. There are thousands of fun sites on the internet that are centered around socializing. Freedom is not a place to celebrate the birthdays of our thousands of members or to celebrate hundreds of national or religious holidays. Please help us keep Freedom a serious and supportive group that remains focused exclusively on the topic of freedom from nicotine.
SOLICITING OR SPAMMING - RECOMMENDATIONS FOR PROGRAMS, TAPES , BOOKS OR PRODUCTS - MENTIONING PRODUCT NAMES: Even though often well intended these practices are prohibited. Freedom from Nicotine is a totally free site with no purchases necessary. No post (or member profile page) may contain any product brand names or any product recommendations.
However, in that we are a nicotine dependency recovery forum, members may use nicotine, tobacco or cessation product brand names.
USING OFFSITE LINKS OR POSTING ANY CONTENT FROM OTHER SITES - Links between threads, to WhyQuit, Joel's Library or Ask Joel are encouraged but all external links or copying of any content from web pages of others, including health information, news stories or studies, whether in messages or profiles, must first be cleared by a Freedom manager, who can be reached at managers@whyquit.com. In posting any approved materials, a link to the material's original source and any copyright information must always be included.
VIOLATIONS - Violation of the forum's Courtesies and Rules may result in permanent loss of membership and posting privileges.
NEVER TAKE ANOTHER PUFF!

Never use nicotine again!
Thank you,
Freedom's Staff


Contact: Managers@WhyQuit.com


Sallie Hamilton, Senior Manager
Evansville, Wisconsin, United States
sallie@whyquit.com


Suzie Ryan, Manager
Northmead, New South Wales, Australia
suzie@whyquit.com
How to Quit Smoking
---
Our Free Quitting E-books
Read both books & demolish quitting anxieties!
---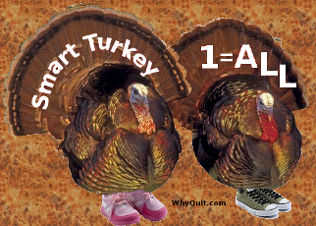 Learn More About Smart Turkey Quitting
Knowledge is a Quitting Method

Rules updated Sept. 17, 2012 and page format last updatedPage format updated June 13, 2015 by
John R. Polito