Freedom from Nicotine - The Journey Home
Free e-book arrives just in time for New Year's quitting resolutions.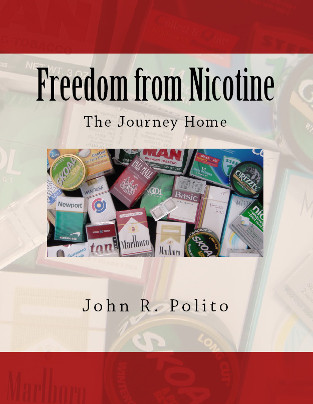 Whether your New Year's quitting resolution is to quit smoking cigarettes, end oral tobacco use, stop vaping e-cigs or break free from the nicotine gum or lozenge, you're in luck! Packed with quitting insights, Freedom from Nicotine - The Journey Home is a free, 291 page, 6.5mb pdf e-book.
"Freedom from Nicotine - The Journey Home" was written by John R. Polito, a former 30-year heavy smoker, and founder and director of WhyQuit, a popular free online quitting site. How popular? Founded in July 1999, WhyQuit annually receives 2.5 times as many unique visitors as the total number of calls to the U.S. government's telephone quitline (2.2 million versus 880,887).
With more than 400 footnotes, most linked to medical journal articles, Freedom from Nicotine - The Journey Home shares the research and science underlying the cessation method which, by far, undeniably accounts for more long-term success stories each year than all other methods combined.
"Pharmaceutical industry influence falsely portrays cold turkey quitting as nearly impossible and non-science-based," says Polito. "The assertions are insane and it's time to fight back."
Most recently, a July 2013 Gallup Poll found that more successful ex-smokers quit smoking cold turkey than by all other methods combined. As for approved quitting products, after 300 years (since 1984) and billions spent on marketing, the Gallup Poll found that only 1% of ex-smokers used nicotine gum (Nicorette), with only 2% succeeding by use of all prescription products combined (Chantix, Zyban and the nicotine inhaler and nasal spray).
As Polito asked in a November 19, 2013 letter published in the British Medical Journal, "How much closer to consumer fraud can approved products get?"
WhyQuit is also home to Joel Spitzer's free e-book Never Take Another Puff, to more than 200 free video counseling lessons and to two free online support group, Turkeyville, Facebook's most popular quitting site, and Freedom, a Yuku messageboard forum. All sites decline donations and are staffed entirely by volunteer cessation educators.
Master the lessons shared in "Freedom from Nicotine - The Journey Home" and experience the magic that happens once we become more dependency recovery savvy than nicotine's influence upon our brain!
How to Quit Smoking
Our Free E-books
Read both & destroy fear driven anxieties!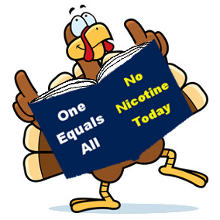 Discover Smart Turkey Quitting
Knowledge is a Quitting Method