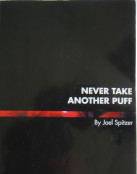 "Never Take Another Puff"
Joel Spitzer's free stop smoking ebook
"Never Take Another Puff" combines all 97 of Joel's Reinforcement Articles into a single PDF file. While we cannot promise that if you read Joel's book that you'll succeed in quitting smoking, we can promise that you'll learn how. Give "Never Take Another Puff" one complete cover-to-cover read. Become smarter and wiser than nicotine's grip upon your brain, thinking and life.
Download the original online version of Joel's free 149 page quit smoking book in PDF format (1.35MB). Once opened, be sure to click the "save" icon (the first icon on the far left) and save a copy to your computer. You'll then be able to search, print and e-mail "Never Take Another Puff" to friends, family members and co-workers who are smoke, chew or dip nicotine.
The 2006 PDF Edition is the newest version of "Never Take Another Puff." It's a bit larger file (1.5MB), with 63 additional pages (212 total) but only four additional articles related to: (1) setting quitting dates, (2) alcohol use and alcoholism, (3) who to believe regarding quitting methods, and (4) why the decline in smoking is grinding to near standstill. If you have already printed the 2003 version, we recommened that you print the four additional articles and place them at the end of Chapter 3.


© Joel Spitzer 1971 - 2018
Page last updated on June 3, 2018 by John R. Polito