10 studies screaming
"leave replacement nicotine alone!"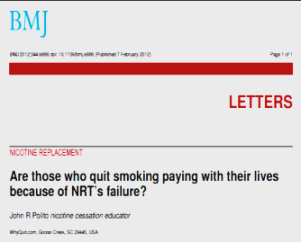 How is a nicotine addict attempting to wean themselves off of nicotine any different than the alcoholic toying with alcohol weaning?
Imagine an alcohol replacement therapy clinical trial. Imagine the accomplishment of alcoholics who successfully transferred their dependency from a bottle or beer can to an IV drip bag being compared to alcoholics who had abruptly ended alcohol use weeks or months earlier, when given IV bags containing sugar water (the placebo group). How long would it be before someone shouted fraud?
Why do nicotine replacement therapy products (NRT) - the nicotine patch, gum and lozenge - prevail inside randomized clinical trials yet fail miserably in real-world use?
The loser within clinical trials was a placebo group using look-a-like NRT products. What the pharmaceutical industry would rather you not know is that the placebo gum (1982) or placebo patch (1996, 1997, 2002) was often spiked with just enough nicotine to keep users in the tease and throws of withdrawal: not delivering enough to satisfy cravings, nor allowing them to get clean, begin re-sensitizing, and move beyond peak withdrawal.
Studies not using active placebos were not blind as claimed. It's why active placebos were needed. Researchers knew that if participants were aware of their assignment, that the outcome would reflect expectations, not product worth.
Smokers with lengthy quitting histories become experts at recognizing the onset of withdrawal. The few quality blinding integrity assessments shared in clinical studies show that three (1997, 2005) to four (2009) times as many placebo group members could correctly declare their randomized assignment as declared wrong, and could do so within 24-48 hours of quitting (peak withdrawal).
Would you have become frustrated if you'd joined a study hoping to receive weeks or months of free NRT, only to realize that you'd been given a placebo instead? So did many of them.
Aside from frustration handing NRT victory by default, counseling, support and other study contacts were designed to at first foster successful dependency transfer from smoking to NRT, and then to gradually weaning NRT users off of nicotine. What the inactive placebo group needed and was deprived of was counseling, guidance and support tailored to the needs of someone abruptly ending nicotine use.
Real-world NRT quitters are not trained, counseled and supported by NRT experts. But then, neither are real-world cold turkey quitters. World-wide, relatively few cold turkey quitters study at cold turkey quitting schools such as WhyQuit.com.
That's what makes the below 10 real-world studies so critical, the fact that unassisted cold turkey quitters generate substantially higher long-term success rates than unassisted NRT quitters.
What NRT stakeholders will never do is to conduct fair studies which pit quitters educated and schooled in successful abrupt nicotine cessation against quitters educated and schooled in nicotine dependency transfer and weaning. Why? Because, as shown below, even with delayed nicotine cessation, NRT gets clobbered in "almost" fair fights.
Truth is, all long-term independent real-world population level quitting method studies since 2002 have found that NRT simply doesn't work. As I suggested in a 2012 British Medical Journal letter, NRT has undercut successful quitting and is costing lives.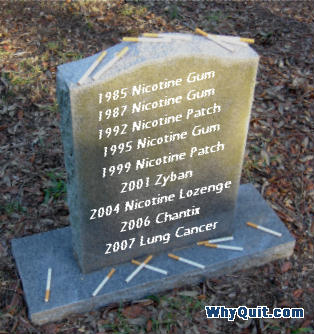 So, how does pharma get away with selling products that don't work? It relies upon an army of paid academic consultants to help hide, suppress or dismiss as non-science-based any and all evidence of NRT ineffectiveness. It then markets NRT by knowingly pretending the fiction that efficacy and effectiveness are one in the same.
NRT marketing often includes the assertion that NRT doubles "your" chances. The word "your" clearly suggests population effectiveness, not efficacy victories over placebo.
Common sense shouts that smokers wishing to quit cold turkey do not join NRT studies. Nor do they use placebo NRT products laced with small amounts of nicotine. The only time NRT has gone head-to-head with cold turkey is out in the street.
And what happens there? Nicotine's half-life inside the body is two hours. It means that within 72 hours of ending all use, that the cold turkey quitter will become 100 percent nicotine-free. Their brain receptors will begin re-sensitizing and they'll have no choice but to move beyond peak withdrawal within the first 3 days.
The pharmaceutical industry's economic muscle and influence is massive, as evidenced by the millions it annually hands to researchers, consultants, universities, medical journals, and to both government and public health organizations.
Could that muscle be why a former Nicorette salesman now heads the Food and Drug Administration's new Center for Tobacco Products, or why the nation's telephone quitline nicotine patch give-a-way champion was appointed director of the Centers for Disease Control's Office on Smoking and Health?
Could it also be why quitters will not find reference to any of the following 10 population level studies on any website advocating NRT use? Could it be that the CDC and FDA are on the wrong side in the war against smoking (pharma's)?
Key Studies Warnings Against NRT Use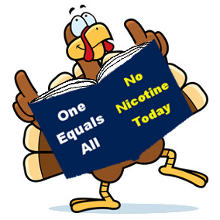 Discover Smart Turkey Quitting
Knowledge is a Quitting Method