Your smoking friends need your help
Your smoking friends badly need your help and a golden opportunity is at hand. May 31 is World No Tobacco Day (WNTD). It isn't that they can't quit or don't want to. It's that no one has ever taught them how. With your help, that can change.
Helen Bradford could have benefitted from such a friend. And it appears that she realized it before life-shattering news of lung cancer on July 9, 2011.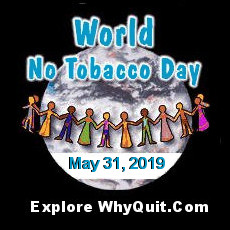 On May 24, 2011, Helen came up with the very idea now being shared with you. Why not change our profile picture at Facebook (or avatar at other sites) for WNTD, May 31, so as to send smoking friends and loved ones a simple yet empowering message. Her message? Explore WhyQuit.com.
Then a recovered ex-smoker for 3.5 years with a passion for helping others, Helen had quit smoking on December 10, 2007. But how?
As Helen put it, "I really, really wanted to quit so I started looking on the Internet. I went to a New Zealand site and someone there was talking about WhyQuit. So I went and had a look. I downloaded Joel's book. It was about a week before I started reading it. But once I got going there was no looking back."
The free e-book Helen mentioned is "Never Take Another Puff." Written by Joel Spitzer, the leading U.S. smoking cessation counselor with 40 years of full-time experience, Never Take Another Puff has logged more than 4 million downloads. Sadly, by the time Helen downloaded her copy it was already too late.
Established in 1999, WhyQuit.com sells nothing, declines donations, is staffed entirely by volunteer counselors and is home to the largest array of free nicotine cessation tools on earth. There, your smoking friends will explore Joel's Library. Aside from Spitzer's free e-book, there they'll discover nearly 500 free video stop smoking lessons (based on YouTube) and more than 100 original articles.
WhyQuit is also home to Turkeyville, our popular Facebook stop smoking support group. There, new quitters are embraced by more than 10,000 seasoned cold turkey quitters. Turkeyville's mayor in 2010-11, if only Helen could only see how its grown.
In addition to education and support, your smoking friends will find scores of powerful motivational articles evidencing the consequences of continued use for half of adult smokers: death an average of 13 years early for males and 14 for females (CDC figures). For example, they'll meet Deborah who was 38, Bryan 34, Kim 44, and Noni 33.
Helen died on December 21, 2011 at age 50, just five months after coming up with this WNTD profile picture/avatar idea. I changed my Facebook profile picture to WhyQuit's 2016 WNTD icon and will display it through Tuesday, May 31.
According to the CDC, worldwide five million new fatal smoking horror stories like Helen's are expected this year, and for every smoking related death, another 20 smokers are already living with at least one smoking related disease.
Why wait and hope that your smoking friends get lucky and eventually stumble upon the lessons and support needed to successfully arrest their chemical dependency?
Like Helen, one of the first members of what's now Turkeyville, and Neil, a 53 year-old member at Freedom, by the time many begin sensing the seriousness and gravity of smoking's harms it's already too late. WNTD is an opportunity to express loving concern while hopefully still time.
On behalf of Helen, I invite you to join her cause. Together we can make a difference. If so inclined, this is the link to the WNTD icon you'll need to save and share: www.WhyQuit.com/images/WNTD2019.jpg
How to Quit Smoking
Our Free E-books
Read both & destroy fear driven anxieties!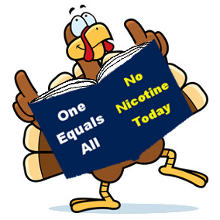 Discover Smart Turkey Quitting
Knowledge is a Quitting Method