Turkeyville, a Facebook quit smoking support group, celebrates 2,000th member
Question: Which stop smoking method generates more ex-smokers each year than all others combined?
Answer: Cold turkey.
Question: And which online cold turkey support site is the fastest growing of all?
Answer: Turkeyville, home to "smart turkey" quitting and Facebook's most popular nicotine cessation group.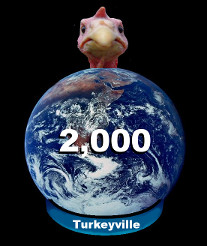 Turkeyville's population has skyrocketed. "I never dreamed that our group of 200 would explode to a forum of 2,000 in just over a year," says Joy Kauffman, Turkeyville's senior manager and honorary Mayor since May 2012.
"Quite simply, I find the entire Turkeyville experience amazing," says Kauffman. "We've been given the tools to spread the "Law of Addiction" all over the world, and we are succeeding!"
And she isn't exaggerating. Egypt, Scotland, Malaysia, South Africa, Zimbabwe, France, Sudan, Netherlands, Malawi, Ukraine, India, Canada, New Zealand, these are but a few of the nations from which Turkeyville members herald.
As for the "Law of Addiction," it's the cornerstone of smart turkey quitting.
Reserved exclusively for cold turkey quitters, Turkeyville teaches smokers how nicotine dependency is as real, permanent and enslaves the same brain pathways as seen in illegal drug addicts or alcoholics.
The "Law of Addiction" simply states that when quitting, that there's no such thing as just one, or just once, that any use of nicotine -- even one puff -- will result in relapse.
Turkeyville's nicotine dependency recovery experience is rooted in the lifetime work of Joel Spitzer, possibly America's most widely relied upon stop smoking counselor. Spitzer's free ebook "Never Take Another Puff" (more than 4 million downloads) and his more than 170 video lessons (more than 4 million views) are available at WhyQuit.com in Joel's Library.
Turkeyville's primary concern now is population control: can quality survive quantity, can the group generate enough knowledgeable ex-smokers quickly enough to keep pace with exploding support demands? But that doesn't seem to deter Joy Kauffman.
"Each time our message is shared on Facebook, we each have the opportunity to save lives," explains Kauffman. "Our members have built this community on their knowledge of nicotine addiction, and mutual respect for each other. They should be very proud of what they've accomplished."
Imagine a temporary journey of re-adjustment that transports you to entire days where you never once think about wanting to smoke nicotine. Why fear coming home. Embrace it!
Share Turkeyville's link with your smoking friends and loved ones. Afford them an opportunity to see how understanding and support destroy fear-driven quitting anxieties.
But if they can't or won't visit, make sure they understand successful quitting's only rule. It's that they are a REAL drug addict, that for them one equals all, lapse equals relapse, that one puff will always be too many, while thousands are never enough.
Yes, there's only one rule. No nicotine just one challenge and day at a time, to never take another puff!

---
How to Quit Smoking
Our Free E-books
Read both & destroy fear driven anxieties!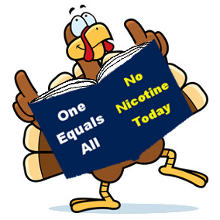 Discover Smart Turkey Quitting
Knowledge is a Quitting Method