October 2004 Marlboro and L&M Ad in "The Atlantic" Fails to Include any Health Warning Label

Magazine: The Atlantic
Issue: October 2004
Page: 007
Title: The importance of being more than the sum of your parts
Author: Altria Group
---
Full Text of Altria Advertisement - Emphasis Added
---
The importance of being more than the sum of your parts.
By the parent company of Kraft Foods, Philip Morris International and Philip Morris USA
Our name might not mean much to you.
But we're the parent of both the largest branded food and beverage company and the largest tobacco company in the USA. The parent of companies that, combined, purchase over $5 billion worth of commodities from other American businesses and American farmers each year.
The parent of companies that make brands which are in 99% of American homes. Famous brans. Household names like Nabisco, Kraft, Maxwell House, Marlboro, Post, Wheat Thins, Velvetta, Milk-Bone, Minute Rice, L&M, Miracle Whip. And many more.
But we're more than just the parent company of the companies we own. Our job is to create the proper environment for long-term, responsible growth.
Because, while our name many not mean much to you, it means everything to us.
Our name is Altria Group.
(corporate logo) Altria
Kraft Foods
Philip Morris International
Philip Morris USA

Altria.com Copyright Altria Group, Inc. 2004


---
Black & White Copy of Advertisement
---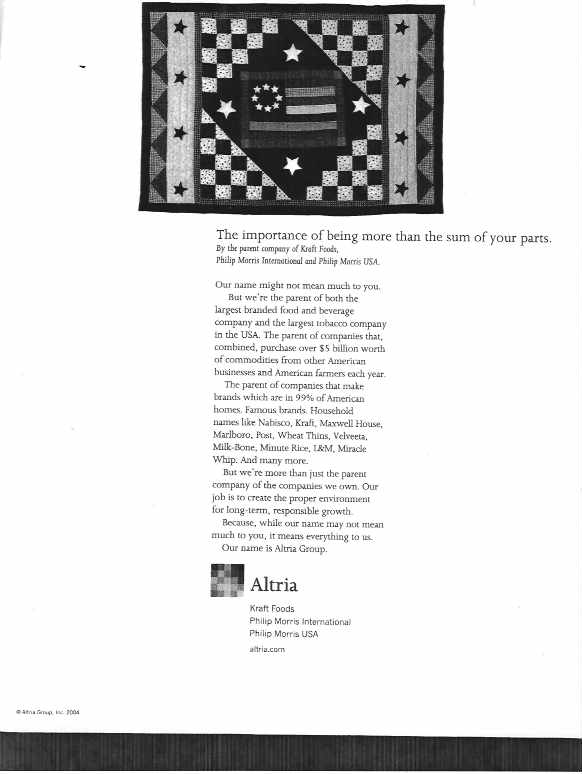 Related Reading on Advertising, Youth Targeting & Nicotine Addiction
How to Quit Smoking
---
Our Free Quitting E-books
Read both books & demolish quitting anxieties!
---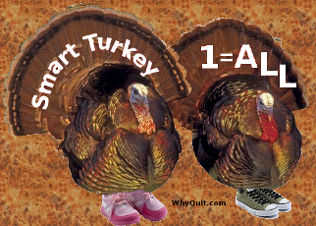 Learn More About Smart Turkey Quitting
Knowledge is a Quitting Method

Created October 28, 2004 and page format updated June 13, 2015 by
John R. Polito