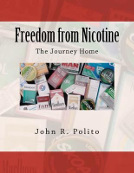 This 291 page nicotine cessation e-book was released
January 1, 2009 and last revised on September 14, 2013
Ask yourself, what sense does it make to fear a temporary journey of re-adjustment which transports us to entire days where we never once think about wanting to inhale or jaw nicotine? Sadly, years of wanting, urges and craves conditioned us to fear what is good and wonderful.
Imagine no longer being afraid to stop smoking, vaping, chewing or using other nicotine products. Imagine knowledge and understanding not only destroying fear driven anxieties, but demolishing years of junkie use thinking, including the deadly fiction of "just one" or that use relieves stress. Instead of fighting your healing, imagine embracing, savoring and welcoming it!
Written by John R. Polito, a former 30-year three pack-a-day smoker and WhyQuit's 1999 founder, Freedom from Nicotine - The Journey Home (FFN-TJH) is available as a free PDF e-book or as individual PDF chapters. It's also in the process of being converted into HTML webpages, as shown below. The most recent content is found in the HTML webpages. These HTML pages will serve as the source and template for future PDF versions.
Trust your natural instincts and common sense. It's natural to feel that the key to freedom is ending use of nicotine, not weeks or months spent toying with new forms of delivery. Logic tells you that it's impossible for your brain to adjust to functioning without nicotine while it continues to arrive. In fact, a July 31, 2013 Gallup poll found that 48 times more ex-smokers credited their success to cold turkey than to nicotine gum.
Read FFN-TJH and experience the magic of becoming more dependency recovery savvy than nicotine's influence upon your brain. Why fight in darkness when you can turn on the lights!

Latest version: September 14, 2013 PDF file size: 7.3MB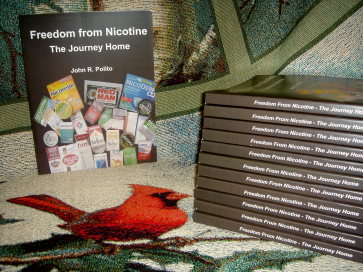 * Note: HTML webpages contain the most current update/version. Also, images used in different formats of FFN-TJH vary substantially due to both new images being incorporated from time to time, and the format's specific image size requirements. For example, HTML pages must be small in size, so as to be friendly for mobile device users.




Copyright John R. Polito 2009-2018
All Rights Reserved
Page created 01/04/09 and last updated 12/20/17 by John R. Polito