Forty-year quit smoking counselor gifts free video lessons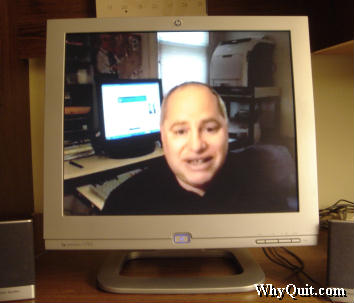 Thinking about quitting smoking but don't know where to start? Imagine experiencing a two-week clinic counseling program, with daily sessions presented by possibly the most experienced cessation educator alive today, without ever leaving home.
Having presented live, real-world quitting programs and seminars to nearly 100,000 since 1976, and online lessons to millions of Internet quitters since January 2000, Joel Spitzer is clearly one of the most studied nicotine cessation counselors ever.
And no strings, no registration, and at no cost, he's yours.
Few smokers have ever met a full-time smoking cessation counselor. Fewer yet have encountered one with 40 years of daily experience in assisting smokers in attaining lasting freedom.
Joel presented his first two-week, twelve-hour, quit smoking clinic as an American Cancer Society volunteer in 1976, and has since conducted 351 full clinics, and 690 single-session seminars.
After leaving the American Cancer Society in 1978, Joel served as smoking programs coordinator for the Rush North Shore Medical Center's Good Health Program from 1978-2000. Joel next presented regular clinics and seminars for the Evanston Health Department (2000-2006) and the Skokie Health Department (2002-2005).
Online, Joel has served as education director at WhyQuit since June 2000. Visited by more than 2 million unique annual visitors, it was then that WhyQuit was transformed into a home, haven and protector of cold turkey quitting (abrupt nicotine cessation).
WhyQuit's education centerpiece is Joel's Library. There, visitors can read Joel's nearly 100 original clinic reinforcement articles, download all articles as a free e-book entitled "Never Take Another Puff," or watch Joel's ever growing collection of almost 500 video lessons.
A good starting point if thinking about quitting or just getting started is Joel's "Daily Quitting Lesson Guide". The Guide combines short YouTube videos with supplemental daily reading.
Want to watch Joel's lessons in action? Visit Turkeyville, home to more than ten thousand cold turkey quitters.
The bottom line? Nearly all smokers want to quit. What's missing is "how."
Why cold turkey? Because it's highly productive, effective, safe, fast and free. Each and every year, more ex-smokers quit cold turkey than by all other methods combined. Take your own poll of all former smokers you know who have been off of all nicotine for at least a year. You'll discover a big beautiful bird.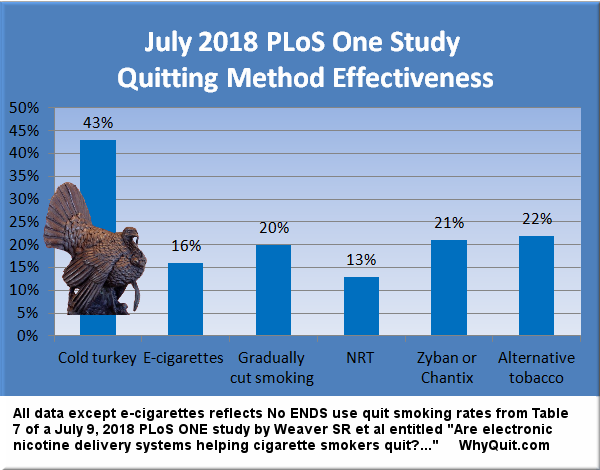 Click the above image to learn more about the 2018 Weaver study and other recent cold turkey study findings.
A common realization among smokers and quitters after pouring themselves into Joel's work is that knowledge truly is power. Imagine becoming smarter and wiser than your addiction is strong. Imagine a deep and abiding conviction that failure is impossible so long as all nicotine remains on the outside.
As every lesson by Joel reminds us, freedom from nicotine is ours to keep so long as we remain loyal to our original commitment to Never Take Another Puff!
Links to Joel Spitzer's Work
How to Quit Smoking
Our Free E-books
Read both & destroy fear driven anxieties!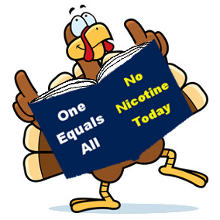 Discover Smart Turkey Quitting
Knowledge is a Quitting Method

Written 12/02/06. Substantially revised 08/28/18.
Reformatted 08/28/18 by John R. Polito