The Perfect Smoker Gift: Free MP3 Counseling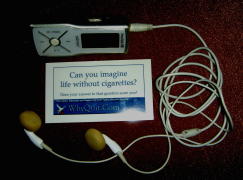 Why give smoking friends and loved ones holiday gifts that ignore their greatest need, the insights needed to quit? Picture yourself spending 30 to 60 minutes downloading a free 270 MB zipped file containing 64 audio quitting lessons. Picture your smoker spending 11 hours with a counselor who has devoted 35 years to helping smokers break free.
Joel Spitzer is America's Henry Aaron/Babe Ruth of quitting. Having started as a volunteer with the American Cancer Society in 1972, he has since presented more than 325 six-session quitting clinics spanning 13 days (each session two hours), and over 570 single session seminars.
A visionary, Joel recognized smoking as true drug addiction while the rest of the medical and scientific community contended that it was simply a habit. Today, the pharmaceutical industry continues to focus on the smoke, while Joel takes aim at the fire's source, nicotine use.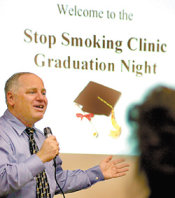 WhyQuit.com is home to Joel's Library. Thanks to a Connecticut acoustic rock guitarist experienced in working with audio files, Joel's "MP3 Audio Counseling Download" is the library's latest addition. Although the audio lessons have been available for individual download at WhyQuit since 2006, thanks to David King, they can now all be downloaded at once, unzipped and installed on an MP3 player.
"I came up with the idea to do this because I want to share the files with my sister (for a Christmas present) and install them on an MP3 Player to give her," explains King, who has been nicotine-free for 43 days. "By formatting everything, it will make it easy for her to navigate through the files and provides a more 'finished' presentation (for a gift). I have no idea if she has any interest in quitting smoking, but this method has worked for me, so maybe she will consider giving it a try."
"For me, the ability to listen to the files anywhere and anytime privately was very helpful," says King. "Even though I quit 6 weeks ago, I still listen to the files pretty regularly for reinforcement. I can do this on my lunch hour, while walking or whatever. The portability of it is great. Hopefully other people will agree and do the same."
Visitors to Joel's Library will also find links to nearly 500 YouTube video quitting lessons and Joel's popular free stop smoking e-book "Never Take Another Puff," which has recorded 2.1 million downloads since August 2005.
We're told that half of adult smokers are losing 13 years (males) to 14 years (females) of life expectancy. Knowledge is power. Consider giving a gift of life this holiday season, the understanding needed to stop smoking nicotine and stay quit.
How to Quit Smoking
Our Free E-books
Read both & destroy fear driven anxieties!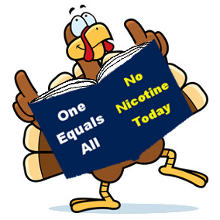 Discover Smart Turkey Quitting
Knowledge is a Quitting Method