I just got my actual pathological slides showing the cilia destruction caused by tobacco smoke. Here is a slide of the normal lining tissue of a bronchus.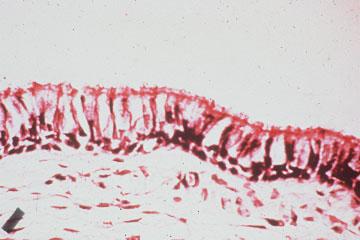 The little pink hairlike projections on the top is the cilia and if you compare this image with the illustrations above you should be able to see the mucous secreting cells and the separation of the lining tissue from the underlying lung tissue.
Below you can see the same area of tissue from a smoker's lung who has totally destroyed the cilia in this tissue.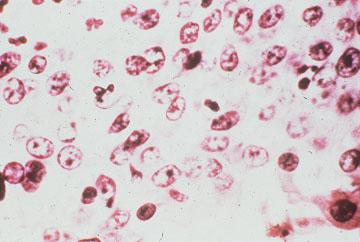 Again note, where there used to be two layers of well formed and orginized basal cells, now numerous layers of disorganized squamous cells has replaced the normal defensive tissue. These cells are precancerous and if the continued irritation (cigarette smoke) is not ceased can go to that final stage where they become malignant and invade into the underlying lunng tissue as seen below.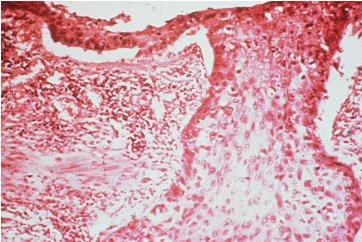 Then it is only a matter of time before it leaves the lung and spreads throughout the body. If the smoker quits smoking before this last cellular change occurs, before a cell turns malignant, the process seen in this last slide can be avoided. In fact much of the damage seen in the second picture here is highly reversible.
In three days cilia start to regenerate and usually within 6 months the normal cilia function is returned. Also over time, the extra layers of cells will be sloughed off and the lining tissue of the bronchus will return to normal.
To continue to heal the damages caused by your past smoking and to avoid all future damages smoking would have continued to inflict on your body always remember to never take another puff!
Below is a postcard I sent out to my smoking clinic graduates in lieu of one of the monthly follow-up letters sometime in the 1990's:
A postcard from a smoker's cilia:
Miss you, wish I were there.
Just a little cilia message from Joel
Never take another puff!
Other related resources:

© Joel Spitzer 2018