Discussion, comments and links related to Joel Spitzer's cold turkey quit smoking videos
The economic costs of smoking
CDC Estimates Cost of Smoking
By ERIN McCLAM Associated Press Writer
April 11, 2002, 2:48 PM EDT
ATLANTA — Each pack of cigarettes sold in the United States costs the nation $7 in medical care and lost productivity, the government said Thursday.
The study by the Centers for Disease Control and Prevention put the nation's total cost of smoking at $3,391 a year for every smoker, or $157.7 billion. Health experts had previously estimated $96 billion.
Americans buy about 22 billion packs of cigarettes annually. The CDC study is the first to establish a per-pack cost to the nation.
The agency estimated the nation's smoking-related medical costs at $3.45 per pack, and said job productivity lost because of premature death from smoking amounted to $3.73 per pack, for a total of $7.18.
The average cost of a pack of cigarettes in 1999 was $2.92.
"There's a big difference in the cost to society and what society is getting back in tax," said the CDC's Dr. Terry Pechacek. "We believe society is bearing a burden for the individual behavioral choices of the smokers."
The CDC said it analyzed expenses, both personal and for the health care industry, and used national medical surveys to calculate the costs to the nation.
The agency also reported that smoking results in about 440,000 deaths a year in the United States, up from the government's previous figure of 430,000, established in the early 1990s. The new study was conducted from 1995 to 1999.
"The fact that nearly half a million Americans lose their lives each year because of smoking-related illnesses is a significant public health tragedy," said Dr. David Fleming, the CDC's acting director.
A spokesman for tobacco giant Brown & Williamson objected that the study presents the figures in a vacuum, without comparing smoking to the financial burdens other people — nonsmokers with diabetes, for example — place on society.
"What does that number mean?" spokesman Mark Smith said. "It doesn't mean anything. It's bordering on meaningless."
Representatives from the nation's two other leading tobacco companies — Philip Morris and R.J. Reynolds — did not immediately return calls for comment.
Among other findings:
* Smoking causes an average man to lose more than 13 years of life, and an average woman to lose 14.5 years.
* Smoking during pregnancy causes about 1,000 infant deaths each year.
* Lung cancer causes the most deaths among smokers, following by heart disease and lung disease.
* Men account for about 60 percent of smoking deaths — 264,000 a year, compared with 178,000 deaths among women.
On the Net:
CDC tobacco site: http://www.cdc.gov/tobaccoCopyright © 2002, The Associated Press
---
Here are some estimates going back to 1983:
"Seattle University economist William L. Weis reported in 1983 that smokers devoted 6 percent of their workday to the ritual, took 50 percent more sick days, and made 50 percent greater use of the health-care system than non-smokers. If they hired only the latter instead, Weis added, employers would shave their personnel costs by 20 percent, their insurance premiums by 30 percent, their office maintenance by 50 percent, and their disability outlays by 70 percent, for a claimed total savings of as much as $4,600 per worker per year." Ashes to Ashes, p. 553
Here is a breakdown down done a few years later by the same investigator:
Each smoker costs his or her employer more than $4,000 a year, according to figures compiled by William L. Weis, assistant professor at the Albers Graduate School of Business, Seattle, Washington. Breakdown of his cost estimates include:
Absenteeism runs 2.2 more days each year, at a cost of $110 a day (Based on a personal cost of $20,000 per employee);
Medical-care benefits are used 50 percent more than by nonsmokers, at an annual cost of $230;
Earnings are lost to the employer because of the smoker's sickness and /or early death at a cost of $230;
Accidents cost an estimated $45;
Fire insurance costs go up an estimated $45;
Lost productivity for smoking breaks, etc., is estimated at $1,820; and
Damage or maintenance for smoke pollution costs $1,000.
(Facts and Figures – 1994, American Cancer Society 5008.93 Copyright 1993, American Cancer Society; Economic Impact of Smoking In the Workplace.)
Low-income earners spend most on smokes, study says
Last Update: Friday, June 11, 2004. 4:31pm (AEST)
Australian Broadcasting Corporation (ABC)
Health groups are calling on the New South Wales Government to introduce tighter controls on tobacco after research showing a reduction in smoking could reduce the impact of poverty.
The study by economists at Macquarie University shows poorest one fifth of smoking-households spend 18 per cent of their income on cigarettes while the richest spend only three per cent.
New South Wales Council of Social Service director Gary Moore says a reduction in spending on smoking would create a better quality of life for low income families.
"Something like $56 a week would be put back into a low-income household's budget for obviously expenditure on other things from energy, water, transport and rent," he said.
Health organisations say the only way to achieve this is to ban smoking in pubs and launch an anti-tobacco advertising campaign.
© 2004 Australian Broadcasting Corporation
I saw the issue raised in a couple of posts of how people were afraid that they would no longer be able to be as productive as ex-smokers as they were as smokers–as if smoking did something to enhance their ability to perform their jobs. This whole string shows how smoking generally negatively impacts smokers productivity. The same idea is often stated for other drugs too, about how much more productive people feel when they used cocaine or other stimulant drugs. People who resort to enhancing their job performance by means of drug usage will often end up working themselves right out of a job because of the long-term effects of what those drugs are going to do to their real performance. With smoking people may not end up working themselves out of a job but they may very well smoke themselves out of health and eventually out of life. The real way to enhance your current productivity and extend the length of time that you are able to work effectively is to stick to your commitment to never take another puff!
Joel
Business Costs in Smoke-Filled Environments - June 2004
ABSENTEEISM AND LOST PRODUCTIVITY
Smokers, on average, miss 6.16 days of work per year due to sickness (including smoking related acute and chronic conditions), compared to nonsmokers, who miss 3.86 days of work per year. 1
In a study of health care utilization in 20,831 employees of a single, large employer, employees who smoked had more hospital admissions per 1,000 (124 vs. 76), had a longer average length of stay (6.47 vs. 5.03 days), and made six more visits to health care facilities per year than nonsmoking employees. 2
A national study based on American Productivity Audit data of the U.S. workforce found that tobacco use was one of the greatest variables observed when determining worker lost production time (LPT)-greater than alcohol consumption, family emergencies, age, or education. The study reported that LPT increased in relation to the amount smoked; LPT estimates for workers who reported smoking one pack of cigarettes per day or more was 75% higher than that observed for nonsmoking and ex-smoking workers. In addition, employees who smoked had approximately two times more lost production time per week than workers who never smoked, a cost equivalent of roughly $27 billion in productivity losses for employers. 3
The U.S. Office of Technology Assessment estimated that in 1990 lost economic productivity from disability and premature mortality caused by smoking was $47 billion. 4
Businesses pay an average of $2,189 in workers' compensation costs for smokers compared with $176 for nonsmokers. 5
The U.S. Centers for Disease Control and Prevention (CDC) puts a $3,391 price tag on each employee who smokes: $1,760 in lost productivity and $1,623 in excess medical expenditures.6 In addition, estimated costs associated with secondhand smoke's effects on nonsmokers can add up to $490 per smoker per year. 7, 8
MAINTENANCE
The U.S. Environmental Protection Agency (EPA) estimates that smokefree restaurants can expect to save about $190 per 1,000 square feet each year in lower cleaning and maintenance costs. 9 The EPA also estimates a savings of $4 billion to $8 billion per year in building operations and maintenance costs if comprehensive smokefree indoor air policies were adopted nationwide. 10
The Organization for Economic Cooperation and Development estimates that construction and maintenance costs are seven percent higher in buildings that allow smoking than in buildings that are smokefree. 11
A 1993 survey of businesses conducted by the Building Owners and Management Association (BOMA) International found that the elimination of smoking from a building reduced cleaning expenses by an average of 10%. Smoking was also cited as the number one cause of fires on a BOMA fire safety survey. 12
The National Fire Protection Association found that in 1998 smoking materials caused 8,700 fires in non-residential structures resulting in a direct property damage of $60.5 million. 13
In a survey of cleaning and maintenance costs among 2,000 companies that adopted smokefree policies, 60 percent reported reduced expenditures. 14
After Unigard Insurance in Seattle went smokefree, its maintenance contractor voluntarily reduced the fee by $500 per month because the cleaning staff no longer had to dump and clean ashtrays, dust desks, or clean carpets as frequently. 15
Using U.S. Bureau of Economic Analysis data, it was determined that employees who smoke cost Marion County, Indiana, businesses $260.1 million in increased health insurance premiums, lost productivity, and absenteeism, as well as additional recruitment and training costs resulting from premature retirement and deaths due to smoking. 16
At the Dollar Inn in Albuquerque, New Mexico, maintenance costs are 50 percent lower in nonsmoking rooms. 17
Merle Norman Cosmetics Company in Los Angeles voluntarily went smokefree and saved $13,500 the first year in reduced housekeeping costs. 18
INSURANCE RATES
Dozens of companies offer discounts on life, disability, and medical insurance for nonsmokers. The total property and contract losses due to fires caused by smoking materials was more than $10.6 million in 1996. The National Fire Protection Association reports $391 million in direct property damage for smoking related fires between 1993-1996. Landlords and restaurants with smokefree premises have negotiated lower fire and property insurance premiums. 19 Fire insurance is commonly reduced 25-30% in smokefree businesses. 20
The American Cancer Society reports that employees who smoke have an average insured payment for health care of $1,145, while nonsmoking employees average $762. 21
REFERENCES
Halpern, M.T.; Shikiar, R.; Rentz, A.M.; Khan, Z.M., "Impact of smoking status on workplace absenteeism and productivity," Tobacco Control 10(3): 233-238, September 2001.
[n.a.]."The Cost of Smoking to Business" American Cancer Society. [n.d.] Accessed on May 18, 2004. Download at http://www.cancer.org/docroot/NWS/content/NWS_2_1x_The_Cost_of_Smoking_to_Business.asp.
Stewart, W.F.; Ricci, J.A.; Chee, E.; Morganstein, D. "Lost Productivity Work Time Costs From Health Conditions in the United States: Results From the American Productivity Audit." JOEM. 45(12): 1234-1246. December 2003.
Halpern, M.T.; Shikiar, R.; Rentz, A.M.; Khan, Z.M., "Impact of smoking status on workplace absenteeism and productivity," Tobacco Control 10(3): 233-238, September 2001.
Musich, S.; Napier, D.; Edington, D.W.; "The Association of Health Risks With Workers' Compensation Costs." JOEM. 43(6): 534-541, June 2001.
Fellows, J.L.; Trosclair, A.; Rivera C.C.; National Center for Chronic Disease and Prevention and Health Promotion, "Annual Smoking Attributable Mortality, Years of Potential Life Lost, and Economic Costs-United States, 1995-1999." Morbidity and Mortality Weekly Report. JAMA, (287)18:2335-2356, 8 May 2002.
Kristein, "How Much Can Business Expect to Profit From Smoking Cessation?" Preventive Medicine, 1983; 12:358-381.
Jackson & Holle, "Smoking: Perspectives 1985," Primary Care, 1985; 12:197-216.
[n.a.], "The dollars (and sense) benefits of having a smoke-free workplace," Michigan Department of Community Health, [2000].
U.S. Department of Health and Human Services: Centers for Disease Control and Prevention, "Clean Indoor Air Regulations Fact Sheet." National Center for Chronic Disease Prevention and Health Promotion. April 11, 2001. Accessed on May 18, 2004. Download at http://www.cdc.gov/tobacco/sgr/sgr_2000?factshetts/factsheet_clean.htm.
[n.a.], "The dollars (and sense) benefits of having a smoke-free workplace," Michigan Department of Community Health, [2000].
Garland, W.S., BOMA Supports Smoking Ban in Buildings, [n.d.] Accessed October 31, 2002.
Hall, Jr., J.R., "The U.S. Smoking-Material Fire Problem," National Fire Protection Association, Fire Analysis and Research Division, April 2001.
[n.a.], "The dollars (and sense) benefits of having a smoke-free workplace," Michigan Department of Community Health, [2000].
Ibid., 2000.
Zollinger, T.W.; Saywell, Jr., R.M.; Overgaard, A.D.; Holloway, A.M., "The economic impact of secondhand smoke on the health of residents and employee smoking on business costs in Marion County, Indiana for 2000," Marion County Health Department, February 2002.
[n.a.], "The dollars (and sense) benefits of having a smoke-free workplace," Michigan Department of Community Health, [2000].
American Lung Association (ALA) of Contra Costa/Solano, "Toward a Smoke-Free Workplace," Pleasant Hill, CA: American Lung Association (ALA) of Contra Costa/Solano, [n.d.].
[n.a.], "The dollars (and sense) benefits of having a smoke-free workplace," Michigan Department of Community Health, [2000].
Health Now!, "Health Now! and the business community." Accessed on May 13, 2004.
[n.a.]."The Cost of Smoking to Business" American Cancer Society. [n.d.] Accessed on May 18, 2004. Download at http://www.cancer.org/docroot/NWS/content/NWS_2_1x_The_Cost_of_Smoking_to_Business.asp.
© 2004, Americans for Nonsmokers' Rights, American Nonsmokers' Rights Foundation
The Basics – The high cost of smoking
These days, smoking can even cost you your job, not to mention the expense of cigarettes, dry cleaning and insurance. But a 40-year-old pack-a-day smoker who quits and puts the savings into a 401(k) earning 9% a year will have $250,000 by age 70.
By Hilary Smith
If the threat of cancer can't convince you to quit smoking, maybe the prospect of poverty will.
The financial consequences of lighting up stretch far beyond the cost of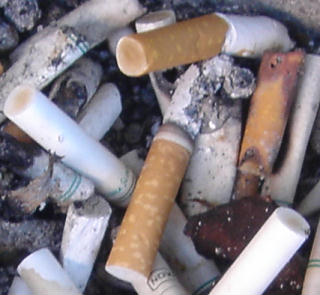 a pack of cigarettes. Smokers pay more for insurance and lose money on the resale value of their cars and homes. They spend extra on dry cleaning and teeth cleaning. Long term, they earn less and receive less in pension and Social Security benefits. And now, being a smoker can not only mean you don't get hired — you can get fired, too: Weyco Inc., a medical benefits administrator in Okemos, Mich., after announcing it would no longer employ smokers, fired four employees who refused to submit to a breath test.
The American Civil Liberties Union's (ACLU)National Workrights Institute estimates that more than 6,000 companies refuse to hire smokers. A few examples:
Kalamazoo Valley Community College in Michigan stopped hiring smokers for full-time positions at both its Michigan campuses;
Alaska Airlines, based in Washington State, requires a nicotine test before hiring people;
The Tacoma-Pierce County (Wash.) Health Department has applicants sign an "affidavit of nontobacco use;"
Union Pacific won't hire smokers.
The costs don't stop with your paycheck. New CDC figures assert that smokers cost the economy nearly $94 billion yearly in lost productivity. An additional $89 billion is estimated spent on public and private healthcare combined. The Campaign for Tobacco-Free Kids Taxpayers says each American household spends $596 a year in federal and state taxes due to smoking.
Some of these numbers are disputed, however, by the Bureau of National Affairs which says 95% of companies banning smoking report no financial savings and the U.S. Chamber of Commerce which finds no connection between smoking and absenteeism.
Start with the obvious
According to the Campaign for Tobacco-Free Kids, the cost of a pack averages $4.32, with the highest prices in Maine ($6.46) and New Jersey ($6.06) and the lowest in Missouri ($3.33).
Using this number, a pack-a-day smoker burns through about $30.24 per week, or nearly $1,600 per year. That's a fat house payment or a nice vacation with the family. A 40-year-old who quits smoking and puts the savings into a 401(k) earning 9% a year would have an extra $250,000 by age 70.
But only you know exactly how much you pay and how often. Plug your yearly tally into our Savings Calculator and see what it'll cost you over the coming decades.
The one place many smokers feel free and comfortable to light up is in their car. Without consistent and thorough cleanings, however, a car that is smoked in will soon start to resemble an ashtray on wheels. The interior will inevitably smell like smoke, and stray ashes and butts can burn holes in the upholstery and floor mats.
None of these things has much financial impact until you try to sell the car. Figure a minimum of $150 for a good cleaning with an extractor.
On a trade-in, dealers can easily knock off more than $1,000 on higher-end vehicles like vans, SUVs and expensive sport-types. Terry Cooper, a car dealer with seven new- and used-car stores, says he took a 1999 Porsche 911 Cabriolet in on trade for $37,000. That sounds OK, but the previous owner could have fetched $40,000 for it had he not "smoked out" the car's interior.
The criteria that apply to cars apply to homes as well, only on a bigger scale.
Smokers' houses often require all new paint and/or wall treatments, as well as professional drapery and carpet cleaning. According to Contractors.com, priming and painting an average-size living room, dining room and two bedrooms would cost around $2,100. The Carpet Buying Handbook puts the average cleaning cost per square foot at 28 cents, and the average home has 1,000 square feet of carpet. That's $280. Add $55 to clean a typical sofa and $25 for a chair, says Diversified Carpet in San Diego.
Walt Molony with the National Association of Realtors says that "certainly the smell of cigarettes can be a turn-off to potential buyers," but he also notes that it is less of a problem in tight housing markets.
The insurers weigh in, and they're not happy
We pulled some online quotes on 20-year term life insurance (a $500,000 policy) for a healthy 44-year-old male through BudgetLife.com. The range for a non-smoker was $695 to $ 2,250 in premiums per year; for someone smoking a pack a day, the prices skyrocketed to as much as $4,495 per year.
The difference in health insurance isn't as dramatic. According to eHealthInsurance.com, the monthly premium for a policy from Regence Blue Shield with a $1,500 deductible for a 44-year-old male nonsmoker is $198. The same policy for a smoker is $229 per month. He will pay nearly $372 more per year.
A few state governments also charge their employees extra for health insurance if they smoke, and others are gradually joining the trend. West Virginia, Georgia, Kentucky and Alabama charge state employees who smoke a surcharge; in Georgia, for example, that surcharge is an additional $40 per month.
According to the ACLU, a majority of states do not have a state law preventing employers from discriminating against potential and current employees based on non-work related activities. There are at least 21 states that do have laws that protect smokers, including Colorado and North Dakota, which ban discrimination based on any form of legal, off-duty behavior.
When shopping for homeowners insurance, nonsmokers can generally expect to receive a minimum 10% discount, according to Ray Neumiller, an agent with Farmer's Insurance in Seattle.
The insurer's point of view: Smokers burn down houses.
The most common homeowners insurance policies range from approximately $290 to $900 per year, depending on the home's location. With the discount, a non-smoker would realize savings of at least $30, but most likely more.
Benefits unclaimed, wages lost
Few people set out to cut their life short, but smokers greatly increase their chances of dying sooner than nonsmokers. In his book, "The Price of Smoking," Frank A. Sloan, director of the Center for Health Policy, Law and Management at Duke University in Durham, N.C., details the financial impact of a shorter life span on retirement benefits.
"Smokers, due to higher mortality rates, obtained lower lifetime benefits compared to never smokers, even after accounting for their smoking-related lower lifetime contributions," the research says.
Sloan and his colleagues found the effects of smoking on lifetime Social Security benefits were $1,519 for 24-year-old female smokers and $6,549 for 24-year-old male smokers. Essentially this is money paid into Social Security but never collected because the beneficiary died prematurely of a smoking-related illness.
"You could be paying into Social Security year after year, and if you die at 66 because you're a smoker, it's money down the drain," says Sloan.
Numerous studies find that smokers earn anywhere from 4% to 11% less than nonsmokers. It's not just a loss of productivity to smoke breaks and poorer health that takes a financial toll, researchers theorize; smokers are perceived to be less attractive and successful as well.
Keeping up appearances
Bad breath, yellow teeth and smelly clothes are just a few of the personal side effects of smoking, and all cost money to correct.
An extra pack of mints or gum a week adds up to about $50 per year. Need your teeth whitened once a year? Brite Smile, which has offices across the country, retails its service for around $600. Most professional-grade teeth whitening products retail for a minimum of $200.
Dry-cleaning bills are likely to be higher also. Clean that suit one extra time a month at a cost of $12 and there goes another $144.
Smoking employees cost $6,000 a year more, study finds
By Maggie Fox, Senior Writer, NBC News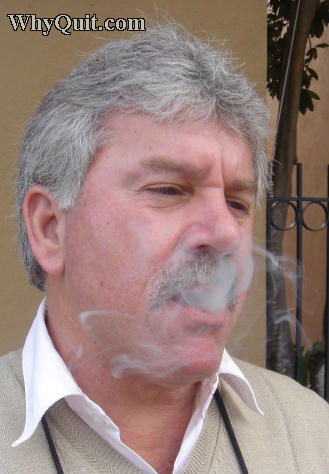 Smokers cost their employers nearly $6,000 a year more than staff who don't smoke, researchers said on Monday in what they say is the first comprehensive look at the issue.
And in what some might see as a dark twist, they've taken into account any savings that might come because smokers tend to die younger than non-smokers, drawing less in pension costs.
The findings support a growing trend among employers to not only ban smoking in the workplace, but to refuse to hire smokers in the first place, argues Micah Berman of Ohio State University, who led the study.
"I think it's certainly relevant to the argument," says Berman, an expert in public health law.
Many studies have shown that smokers cost the health care system more and that they cost health insurers more. Because many companies self-insure – meaning they pay for health care costs even if a health insurance company manages the benefits for them – that means smokers cost their employers more.
There's also the lost productivity of workers stepping away for a smoke break – and those breaks take longer as more employers ban smoking anywhere in the office or workplace.
But no one study put all these costs together, Berman says. "I was really surprised to see that there wasn't any really good study out there," he said in a telephone interview.
So Berman and colleagues with expertise in economics took a look at as many of the studies as they could find – studies on health care costs and so-called presenteeism – when people are at work but not putting in full effort. They looked at studies that calculated the cost of taking more sick days, and the cost of smoke breaks, and, finally, the costs of benefits of not having to pay pensions to employees who die prematurely.
"Our best estimate of the annual excess cost to employ a smoker is $5,816," they wrote in the journal Tobacco Control.
They took a conservative approach whenever possible, Berman said, erring on the side of caution.
"Employers try to correct for the idea that smokers cost more by paying them somewhat less. Even when we adjusted for that – smokers still cost more," he said.
They looked at the lowest possible costs for people taking smoke breaks – just eight minutes a day lost to smoking. That would cost employers $1,641.14 a year, they said. But it's more likely much higher — $3,077, they calculated, based on two 15-minute smoke breaks a day. Lost productivity was based on the average wages and benefits paid a smoker working full time: $26.49 an hour, with 232 days worked a year.
Excess healthcare costs of smokers, who have higher rates of lung disease, heart disease, various cancers and other illnesses: $2,055.77.
Berman thought it was important to include the "death benefit". "Though in some cases this may occur, it could happen only in defined benefit plans," they wrote.
Most employers now offer 401K plans, which pay out based on the investments in them and not based on an employee's lifespan. Berman's team incorporated the death benefit calculation for the 21 percent of employers who still offer defined benefit pensions, and found the total lifetime savings per person was $10,123 for a male smoker and $383 for a woman – lower because women tend to have less money coming in a pension.
A startling part of the calculation was just how much less productive smokers really are. "Though all employees are occasionally unproductive in one way or another, research suggests that smoking status negatively impacts productivity separately and apart from lost work time due to smoking breaks and absenteeism," Berman's team wrote.
"This is because nicotine is a powerfully addictive drug. Although cigarettes satisfy a smoker's need for nicotine, the effect wears off quickly. Within 30 minutes after finishing the last inhalation, the smoker may already be beginning to feel symptoms of both physical and psychological withdrawal. (Much of what smokers perceive as the relaxing and clarifying effect of nicotine is actually relief from their acute withdrawal symptoms.)"'
So-called presenteeism costs $461.92 a year for each employee who smokes, they calculated. Excess absences cost $517.
Many companies have adopted smoke-free workplace policies, and a growing number are also refusing to hire smokers at all. Alaska Airlines is one, says spokeswoman Marianne Lindsey.
"We have had a non-smoking policy within the company since the mid '80s (and we test for nicotine use upon hire) in those states where we are permitted to do so," Lindsay says. "We also offer a free quit smoking program for employees and dependents who may have started smoking after being hired, or who smoked prior to our non-smoking policies being implemented. We can't make a direct correlation to medical costs, but we do know that there's many intangible benefits to (having) healthier employees."
There are court challenges to these policies and now 29 states and the District of Columbia have laws specifically barring companies from banning or disciplining smokers, although they may charge them higher health insurance premiums.
Most public health experts advocate a softer approach. "Studies show as smokers have more opportunity to quit, and more resources to quit, they are more successful," says Laurie Whitsel, policy research director for the American Heart Association. She notes that most smokers say they want to quit. "Most smokers take six to nine times to be able to quit a tobacco habit," Whitsel said in a telephone interview. "It is incredibly addictive."
Former White House adviser Dr. Ezekiel Emanuel and colleagues argued against banning smokers in the New England Journal of Medicine in April. "We believe that employers should consider more constructive approaches than punishing smokers. In hiring decisions, they should focus on whether candidates meet the job requirements; then they should provide genuine support to employees who wish to quit smoking," wrote Emanuel, a former bioethicist at the National Institutes of Health who is now at the University of Pennsylvania.
The Centers for Disease Control and Prevention estimates that 19 percent of U.S. adults smoke, and that 443,000 people die prematurely every year because of tobacco use. The CDC estimates smoking costs $193 billion in health expenses and lost productivity.

© Joel Spitzer 2018