Joel Spitzer's Past Clinics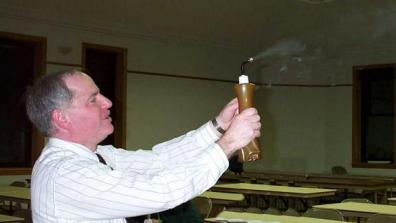 Joel conducting his Palmolive bottle demonstration
---
Joel Spitzer started conducting live smoking prevention programs in 1972 when, as a volunteer, he developed and presented his very first smoking education seminars for the American Cancer Society's Chicago Unit in the Illinois Division.
He conducted smoking cessation clinics and school based smoking prevention programs for the Good Health Program of Rush North Shore Medical Center in Skokie, Illinois from 1978 to 2000.
Joel next presented regular clinics and seminars for the Evanston Health Department (2000-2006) and the Skokie Health Department (2002-2005). Since June 2000 he has served as WhyQuit's director of education, where his work has reached millions.
In addition to presenting more than 570 smoking preventon seminars to over 92,000 children and adults, Joel presented 325 full nicotine cessation clinics with over 4,500 participants. Each six-session, 12-hour clinic spanned 13 days. Below is a list of Chicago area clinics presented by Joel.
| | |
| --- | --- |
| Site of Clinic | Date |
| Link Drug Abuse Clinic | 09/13/76 |
| Link Drug Abuse Clinic | 01/11/77 |
| Wright Jr. College | 02/18/77 |
| Northeastern Illinois University | 03/08/77 |
| Northwest Federal Savings | 03/16/77 |
| Link Drug Abuse Clinic | 04/19/77 |
| St. Joseph Hospital | 04/27/77 |
| Talman Federal Savings And Loan | 06/02/77 |
| Sun Times/Daily News | 06/17/77 |
| South Chicago Hospital | 06/21/77 |
| Northeastern Illinois University | 07/12/77 |
| Martha Washington Hospital | 09/22/77 |
| Fiat Allis Corporation | 10/06/77 |
| Francis Parker School | 10/11/77 |
| Doctors Medical Center, Mt Sinai Hospital | 11/28/77 |
| Northeastern Illinois University | 01/03/78 |
| NBC TV | 01/10/78 |
| Martha Washington Hospital | 01/31/78 |
| Link Drug Abuse Clinic | 02/21/78 |
| Mt. Sinia Hospital | 03/07/78 |
| Northwest Federal Savings | 03/13/78 |
| Columbus Hospital | 03/20/78 |
| University of Illinois School Of Nursing | 03/31/78 |
| Talman Federal Savings And Loan | 04/13/78 |
| Latin School | 04/25/78 |
| Blue Cross Blue Shield | 05/09/78 |
| Mercy Hospital | 05/16/78 |
| Quaker Oates | 05/18/78 |
| Martha Washington Hospital | 06/27/78 |
| Continental Bank 1 | 07/11/78 |
| Blue Cross Blue Shield | 07/25/78 |
| Northeastern Illinois University | 07/25/78 |
| Blue Cross/Shield 3 | 08/08/78 |
| St. Anthony Hospital | 09/05/78 |
| Mercy Hospital 2 | 09/12/78 |
| Skokie Valley Hospital | 09/12/78 |
| Martha Washington Hospital | 09/19/78 |
| Doctors Medical Center-Mt. Sinai Hospital | 10/03/78 |
| Continental Bank | 10/17/78 |
| Latin School | 10/24/78 |
| Columbia National Bank | 10/31/78 |
| Northern Trust Bank | 11/06/78 |
| Skokie Valley Hospital | 11/08/78 |
| Northeastern Illinois University | 11/14/78 |
| Blue Cross Blue Shield | 01/08/79 |
| Skokie Valley Hospital | 01/16/79 |
| Northern Illinois Gas | 02/20/79 |
| Skokie Valley Hospital | 02/27/79 |
| Columbia National Bank | 03/06/79 |
| Skokie Valley Hospital | 04/03/79 |
| Skokie Valley Hospital | 05/08/79 |
| Guarantee Trust Life Insurance | 06/05/79 |
| Skokie Valley Hospital | 06/12/79 |
| Washington National Life Insurance | 07/10/79 |
| Allstate Insurance | 07/17/79 |
| Skokie Valley Hospital | 08/21/79 |
| Allstate Insurance | 09/11/79 |
| Northeastern Illinois University | 09/20/79 |
| Martha Washington Hospital | 10/09/79 |
| Skokie Valley Hospital | 10/30/79 |
| Allstate Insurance | 01/08/80 |
| Skokie Valley Hospital | 01/29/80 |
| Niles North And West Faculty | 02/19/80 |
| Skokie Valley Hospital | 03/25/80 |
| Northwestern University | 04/08/80 |
| Northwestern University | 04/29/80 |
| Allstate Insurance | 05/13/80 |
| Brunswick | 06/10/80 |
| Skokie Valley Hospital | 06/24/80 |
| Brunswick | 08/05/80 |
| Skokie Valley Hospital | 09/01/80 |
| Washington National Life Insurane 2 | 10/07/80 |
| Allstate Insurance | 10/21/80 |
| Northwestern University | 11/11/80 |
| Skokie Valley Hospital | 11/18/80 |
| Devry Institute Of Technology | 01/06/81 |
| Skokie Valley Hospital | 01/13/81 |
| Allstate Insurance | 02/10/81 |
| Skokie Valley Hospital Employees | 02/24/81 |
| Skokie Valley Hospital16 | 03/10/81 |
| Northwestern University | 04/21/81 |
| Skokie Valley Hospital1 | 05/26/81 |
| Northeastern Illinois University | 06/09/81 |
| Skokie Valley Hospital | 07/28/81 |
| Bahai Temple | 09/08/81 |
| Skokie Valley Hospital | 09/22/81 |
| Allstate Insurance | 10/13/81 |
| Skokie Valley Hospital | 11/17/81 |
| Devry Institute | 01/05/82 |
| Skokie Valley Hospital | 01/19/82 |
| Skokie Valley Hospital | 03/16/82 |
| Allstate Insurance | 04/27/82 |
| Household International | 05/04/82 |
| Skokie Valley Hospital | 05/11/82 |
| Felpro | 06/08/82 |
| Skokie Valley Hospital | 07/13/82 |
| Topco | 08/03/82 |
| Skokie Valley Hospital | 09/07/82 |
| Felpro | 10/19/82 |
| Skokie Valley Hospital | 11/02/82 |
| Felpro | 11/09/82 |
| Skokie Valley Hospital | 12/07/82 |
| Skokie Valley Hospital | 01/18/83 |
| Felpro | 02/01/83 |
| Village of Skokie | 02/22/83 |
| Skokie Valley Hospital | 03/15/83 |
| Village Of Skokie | 04/26/83 |
| Skokie Valley Hospital | 05/31/83 |
| Skokie Valley Hospital | 07/12/83 |
| Village Of Skokie | 08/23/83 |
| CF Industries | 08/30/83 |
| Skokie Valley Hospital | 09/20/83 |
| Commonwealth Edison | 09/27/83 |
| Felpro | 10/18/83 |
| Skokie Valley Hospital | 11/15/83 |
| Village | 12/06/83 |
| American Hospital Association | 01/10/84 |
| Skokie Valley Hospital | 01/24/84 |
| Quill Corporation | 01/31/84 |
| Triangle Printers | 02/14/84 |
| Commonwealth Edison | 02/28/84 |
| Skokie Valley Hospital | 03/27/84 |
| Benefit Trust Life Insurance | 04/10/84 |
| Village Of Skokie | 05/01/84 |
| Skokie Valley Hospital | 05/15/84 |
| Skokie Valley Hospital | 07/17/84 |
| Village of Skokie | 08/21/84 |
| Village of Skokie | 09/11/84 |
| Skokie Valley Hospital | 09/18/84 |
| CF Industries | 10/02/84 |
| American Hospital Association | 10/16/84 |
| Benefit Trust Life Insurance | 10/30/84 |
| Skokie Valley Hospital | 11/27/84 |
| Guarantee Trust | 12/04/84 |
| Village of Skokie | 01/08/85 |
| Skokie Valley Hospital | 01/22/85 |
| Morton Thiokol | 02/18/85 |
| Skokie Valley Hospital | 03/19/85 |
| American Hospital Association | 05/07/85 |
| Skokie Valley Hospital | 05/21/85 |
| Village of Skokie | 06/04/85 |
| Benefit Trust Life Insurance | 07/09/85 |
| Skokie Valley Hospital | 07/23/85 |
| Topco | 08/06/85 |
| Skokie Valley Hospital | 10/01/85 |
| American Hospital Association | 10/22/85 |
| Skokie Valley Hospital | 11/05/85 |
| Benefit Trust Life Insurance | 11/19/85 |
| Skokie Valley Hospital | 12/03/85 |
| Skokie Valley Hospital | 01/27/86 |
| Village of Skokie | 02/04/86 |
| Skokie Valley Hospital | 03/04/86 |
| American Hospital Association | 03/18/86 |
| Skokie Valley Hospital | 04/01/86 |
| Benefit Trust Life Insurance | 04/15/86 |
| Skokie Valley Hospital | 05/06/86 |
| Felpro | 05/20/86 |
| Skokie Valley Hospital | 06/03/86 |
| Skokie Valley Hospital | 07/08/86 |
| Benefit Trust Life Insurance | 07/22/86 |
| Skokie Valley Hospital | 08/05/86 |
| Skokie Valley Hospital | 09/02/86 |
| American Hospital Association | 09/23/86 |
| Skokie Valley Hospital | 10/07/86 |
| Skokie Valley Hospital | 11/04/86 |
| Skokie Valley Hospital | 12/02/86 |
| Village of Skokie | 12/09/86 |
| Skokie Valley Hospital | 01/06/87 |
| American Hospital Association | 01/20/87 |
| Felpro | 01/27/87 |
| Skokie Valley Hospital | 02/03/87 |
| Skokie Valley Hospital | 03/03/87 |
| Trans Credit Union | 03/24/87 |
| Skokie Valley Hospital | 03/31/87 |
| Aparacor | 04/07/87 |
| MPC | 04/21/87 |
| Skokie Valley Hospital | 05/05/87 |
| MPC | 05/19/87 |
| MPC | 06/02/87 |
| S&C Electric | 06/16/87 |
| Skokie Valley Hospital | 07/07/87 |
| S&C Electric | 07/21/87 |
| S&C Electric | 08/04/87 |
| Skokie Valley Hospital | 09/01/87 |
| Morton Thiokol | 09/15/87 |
| Trans Credit Union | 09/29/87 |
| Skokie Valley Hospital | 10/06/87 |
| Sheridan Hospital | 10/20/87 |
| Rush North Shore Medical Center | 11/03/87 |
| Kraft | 11/17/87 |
| Rush North Shore Medical Center | 12/01/87 |
| Rush North Shore Medical Center | 01/05/88 |
| Kraft | 01/19/88 |
| Rush North Shore Medical Center | 03/01/88 |
| Allstate | 03/15/88 |
| Searle | 04/05/88 |
| Allstate | 04/19/88 |
| Rush North Shore Medical Center | 05/03/88 |
| Allstate | 05/17/88 |
| Felpro | 06/07/88 |
| Allstate | 06/21/88 |
| Rush North Shore Medical Center | 07/05/88 |
| Allstate | 07/19/88 |
| Rush North Shore Medical Center | 09/06/88 |
| Rush North Shore Medical Center | 10/04/88 |
| Rush North Shore Medical Center | 11/01/88 |
| Rush North Shore Medical Center | 12/06/88 |
| Rush North Shore Medical Center | 01/03/89 |
| Rush North Shore Medical Center | 03/07/89 |
| Rush North Shore Medical Center | 04/04/89 |
| Commonwealth Edison Maywood | 04/18/89 |
| Rush North Shore Medical Center | 05/02/89 |
| Rush North Shore Medical Center | 06/06/89 |
| Corboy And Demetrio | 06/20/89 |
| Rush North Shore Medical Center | 07/11/89 |
| Rush North Shore Medical Center | 08/01/89 |
| Solo Cup | 08/22/89 |
| Rush North Shore Medical Center | 09/05/89 |
| American Hospital Association | 09/19/89 |
| Rush North Shore Medical Center | 10/03/89 |
| Smurfit Laminating | 10/17/89 |
| Rush North Shore Medical Center | 10/31/89 |
| Commonwealth Edison Braidwood | 11/14/89 |
| Rush North Shore Medical Center | 12/05/89 |
| Rush North Shore Medical Center | 01/02/90 |
| Topco | 01/16/90 |
| Rush North Shore Medical Center | 02/06/90 |
| Rush North Shore Medical Center | 03/06/90 |
| Rush North Shore Medical Center | 04/03/90 |
| Rush North Shore Medical Center | 05/01/90 |
| Nutrasweet | 05/15/90 |
| Rush North Shore Medical Center | 06/05/90 |
| North Star Bank | 06/19/90 |
| Rush North Shore Medical Center | 07/10/90 |
| Aon Corporation | 07/24/90 |
| Rush North Shore Medical Center | 08/04/90 |
| Rush North Shore Medical Center | 08/07/90 |
| Aon Corporation | 08/21/90 |
| Rush North Shore Medical Center | 09/02/90 |
| Aon Corporation | 09/16/90 |
| Rush North Shore Medical Center | 11/06/90 |
| Rush North Shore Medical Center | 12/04/90 |
| RBH, Subsidiary of Aon Corporation | 12/11/90 |
| Rush North Shore Medical Center | 01/07/91 |
| Rush North Shore Medical Center | 01/08/91 |
| Felpro/90 | 01/22/91 |
| Rush North Shore Medical Center | 02/05/91 |
| Aon Corporation | 02/19/91 |
| Rush North Shore Medical Center1 | 03/05/91 |
| Aon Corporation | 03/19/91 |
| Rush North Shore Medical Center | 04/02/91 |
| Rush North Shore Medical Center | 05/07/91 |
| Rush North Shore Medical Center | 06/04/91 |
| Rotary International | 06/18/91 |
| Rush North Shore Medical Center | 07/09/91 |
| Rush North Shore Medical Center | 08/06/91 |
| Rush North Shore Medical Center | 09/03/91 |
| Commonwealth Edison | 09/17/91 |
| Rush North Shore Medical Center | 10/01/91 |
| Rush North Shore Medical Center | 11/05/91 |
| Commonwealth Edison | 11/19/91 |
| Rush North Shore Medical Center | 12/03/91 |
| Rush North Shore Medical Center | 02/05/92 |
| Rush North Shore Medical Center | 03/03/92 |
| S&C Electric | 03/14/92 |
| S&C Electric | 03/17/92 |
| Commonwealth Edison, Morris | 03/23/92 |
| Rush North Shore Medical Center | 04/07/92 |
| Overland Bowling | 04/21/92 |
| Rush North Shore Medical Center | 05/05/92 |
| Rush North Shore Medical Center | 07/07/92 |
| Rush North Shore Medical Center | 09/08/92 |
| Rush North Shore Medical Center | 11/03/92 |
| Rush North Shore Medical Center | 01/05/93 |
| Rush North Shore Medical Center | 03/02/93 |
| Rush North Shore Medical Center | 05/04/93 |
| Commonwealth Edison | 06/08/93 |
| Rush North Shore Medical Center | 07/06/93 |
| Felpro | 07/20/93 |
| Rush North Shore Medical Center | 09/07/93 |
| Rush North Shore Medical Center | 11/02/93 |
| ITT Bell & Gossett | 11/16/93 |
| Rush North Shore Medical Center | 12/07/93 |
| Rush North Shore Medical Center | 01/04/94 |
| Rush North Shore Medical Center | 03/15/94 |
| Rush North Shore Medical Center | 05/17/94 |
| Commonwealth Edisom | 05/31/94 |
| Rush North Shore Medical Center | 06/15/94 |
| Rush North Shore Medical Center | 07/12/94 |
| Deublin Corporation | 08/23/94 |
| Zenith Data Systems | 09/06/94 |
| Rush North Shore Medical Center | 09/20/94 |
| Rush North Shore Medical Center | 11/15/94 |
| Searle | 01/03/95 |
| Rush North Shore Medical Center | 01/24/95 |
| Holy Family Hospital | 03/14/95 |
| Rush North Shore Medical Center | 04-18-95 |
| Rush North Shore Medical Center | 06-06-95 |
| Searle | 08-01-95 |
| Culligan International | 08-15-95 |
| Rush North Shore Medical Center | 09-05-95 |
| Rush North Shore Medical Center | 11-28-95 |
| Commonwealth Edison | 01-10-96 |
| Rush North Shore Medical Center | 01-16-96 |
| Rush North Shore Medical Center | 03-05-96 |
| Rush North Shore Medical Center | 05-21-96 |
| Rush North Shore Medical Center | 07-16-96 |
| Rush North Shore Medical Center | 09-17-96 |
| Rush North Shore Medical Center | 11-05-96 |
| Rush North Shore Medical Center | 01-07-97 |
| Rush North Shore Medical Center | 03-11-97 |
| Rush North Shore Medical Center | 05-13-97 |
| Rush North Shore Medical Center | 07/08/97 |
| Rush North Shore Medical Center | 09-09-97 |
| Rush North Shore Medical Center | 11-11-97 |
| Rush North Shore Medical Center | 01-13-98 |
| Rush North Shore Medical Center | 03-10-98 |
| Rush North Shore Medical Center | 05-13-98 |
| Rush North Shore Medical Center | 11-17-98 |
| Rush North Shore Medical Center | 03-13-99 |
| Topco | 05-06-99 |
| Evanston Health Department | 11-28-00 |
| Evanston Health Department | 12-16-01 |
| Evanston Health Department | 03-20-01 |
| Evanston Health Department | 05-08-01 |
| Evanston Health Department | 07-10-01 |
| Evanston Health Department | 10-09-01 |
| Evanston Health Department | 12-03-01 |
| Evanston Health Department | 01-29-02 |
| Evanston Health Department | 04-02-02 |
| Evanston Health Department | 06-04-02 |
| Evanston Health Department | 09-10-02 |
| Skokie Health Department | 11-12-02 |
| Evanston Health Department | 01/07/03 |
| Skokie Health Department | 03/04/03 |
| Evanston Health Department | 05/06/03 |
| Evanston Health Department | 09/30/03 |
| Skokie Health Department | 01/27/04 |
| Evanston Health Department | 03/16/04 |
| Skokie Health Department | 06/15/04 |
| Evanston Health Department | 09/28/04 |
| Skokie Health Department | 11/30/04 |
| Evanston Health Department | 01-04-05 |
| Evanston Health Department | 04-12-05 |
| Skokie Health Department | 06-14-05 |
| Evanston Health Department | 09-20-05 |
| Skokie Health Department | 11-08-05 |
| Evanston Health Department | 01-17-06 |
| Skokie Health Department | 03-14-06 |
| Evanston Health Department | 05-16-06 |
| Evanston Health Department | 10-03-06 |
| Skokie Health Department | 01-09-07 |