Joel Spitzer's Past Seminar Sites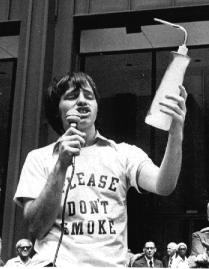 A young Joel at a 1975 smoking prevention presentation
Joel Spitzer started conducting live smoking prevention programs in 1972 when, as a volunteer, he developed and presented his very first smoking education seminars for the American Cancer Society's Chicago Unit in the Illinois Division.
He conducted smoking cessation clinics and school based smoking prevention programs for the Good Health Program of Rush North Shore Medical Center in Skokie, Illinois from 1978 to 2000.
Joel next presented regular clinics and seminars for the Evanston Health Department (2000-2006) and the Skokie Health Department (2002-2005). Since June 2000 he has served as WhyQuit's director of education, where his work has reached millions.
In addition to presenting over 325 nicotine cessation clinics with over 4,500 participants, Joel presented more than 570 smoking prevention seminars to over 92,000 children and adults. Below is a list of seminars presented by Joel at various locations throughout the Chicago area.
Site of Program

Program Date

Previous
Programs
at Site

A T & T Longlines

08/16/77

A. C. Nielson

01/13/88

2

Alliance Of Non-Smokers

04/16/77

1

Allstate Insurance Seminar

11/19/92

Altrusa Club (Olympia Fields)

09/15/76

Amigos

05/11/99

2

American Cancer Society Annual Meeting

06/15/77

American Cancer Society Divisional Meeting

06/15/77

American Cancer Society Divisional McDonalds University

9/15/98

American Cancer Society Evanston Kids Board

05/13/00

American Cancer Society Nurses Training

02/26/86

American Cancer Society Pace Group

1976

American Cancer Society Physician Training

05/20/83

American Cancer Society Staff Training Wkshps

1978

3

Aparacor

03/23/87

Armstrong Elementary

02/10/77

Association House

1976

1

Audubon Elementary School (ABC & CBS TV)

05/19/77

1

Austin Library Youth Group

1975

B'nai Brith Of Skokie

02/06/79

Balcor

03/09/93

Bernard Horwich JCC

06/26/84

Bethesda Elementary School

04/04/77

2

Bethesda Home

7/24/98

Bethune Elementary School

10/19/79

BHI Incorporated

03/13/87

Bogan High School

05/19/77

4

Boone Elementary School

03/18/77

3

Bowen High School

12/20/77

2

Boy Scouts Of America McCormick Place Pow-Wow

1976

Braun Manufacturing Company

09/21/78

Budlong Elementary

03/07/78

Carrol Elementary School

05/24/77

1

Central School Of Libertyville

03/08/85

Chicago Bar Association

03/25/88

Chicago Chamber of Commerce

04/16/97

Chicago Dental Society Midwinter Dental Conference

02/23/02

1

Chicago Prepatory High School

11/20/97

Chicago State University

11/14/78

1

Circle Campus Youth Groups

1975

Civic Center Ralleys 1975-1983

1983

8

Clinton Elementary School

03/27/79

1

Commonwealth Edison Employee Seminar
Cook County School Of Nursing

1976

Copernicus Elementary School

11/22/77

Counterpoint Youth Clinic

11/01/79

4

Culver Elementary School

02/01/90

6

Currie High School

1977

1

Depaul University Health Classes

10/13/78

4

Dever Elementary School

04/01/77

Dexter Missouri Healthy Lifestyles Conference

09-07-01

Dirkson School Pta

01/17/78

Dunbar High School

03/30/78

East Prarie Teachers In-Service

ECTV Our Town Evanston
3-2-02
Edison Park Luther League

1978

Evanston Dental Association

03/05/01

1

Evanston Health Department

12/06/04

3

Evanston City Employees

09/19/00

Evanston Township High School

11/16/00

7

Evanston Township High School Peer Services

04/30/01

1

Fairview South Elementary School

04/11/00

4

Faith, Hope and Charity School (Winnetka)

11/10/99

1

Farragut High School

03/14/77

2

Fel-Pro, Inc. Employee Smoking Seminar

01/13/87

Field Middle School (Northbrook)

05/5/04

24

Field School (Wheeling)

05/30/84

First Church Of God Youth Group

02/21/83

First National Bank Of Skokie Employee Sem.

05/25/82

Five Holy Martyrs Elementary School

04/28/77

Fluid Power Systems

10/26/93

Foreman High School

02/15/78

7

Four-H Fair Arlington Heights

1972

Four-H Southside Group

10/18/78

Frost Elementary School

01/20/89

2

Gage Park High School

02/02/78

Gemini Elementary School

1976

1

General Board Of Pensions United Methodist Church

09/16/82

Glen Oaks Nursing Home

11/25/86

Glenbrook North

01/20/95

Glenbrook North High School

11/09/81

1

Glenbrook North High School

11/22/94

Glenbrook South

01/26/01

3

Glencoe Union Church Youth Groups

10/20/82

1

Glenview Community Church
Good Council High School

1975

1

Gordon Tech High School

1976

8

Gray Elementary School

03/09/78

Great Lakes Naval Base

08/24/99

1

Greenbriar Elementary School

04/18/83

1

Harper Elementary School

12/11/79

Hazel Wilson Senior Citizens Home

1977

Hiawatha Park Girl Scouts

1976

Home Depot Employees (Evanston)

05-11-99

Howe Barnes

04-05-99

Illinois Interagency Council Level VI Conferences

11/07/84

7

Illinois State Fair 1976-1977

08/14/77

1

Illinois Student Council Association

04/29/77

Immaculate Conception High School

12/06/77

1

Iroquois Popcorn

02/13/87

Jamison Elementary School

01/11/78

1

Jefferson Park Library

05/08/78

Junior Women's League Of Chicago Seminars

03/06/85

2

Kendall College

02/09/94

Kenilworth Union Church

02/23/99

Kennedy King College

07/21/77

Klein Tools

04/14/94

Knights Of Columbus (Niles)

1980

Lake Zurich High School

12/07/78

1

Lawson YMCA Senior Citizens

01/24/77

Level VI Conference Springfield

04/03/84

1

Lewis Elementary School

05/31/77

Life Fitness

08/12/97

Lincoln Junior High

10/29/92

Lincoln Junior High School

05/03/83

3

Lions Township

07/08/77

Lourdes High School

11/30/78

Loyola Academy

02/04/93

10

Lucy Flower High School

01/31/78

Lyons Township High School

07/08/77

Margolis, Shiffman, and Morris Family Dental Practice

01/31/01

1

Mark Twain School

01/26/90

1

Marrilac High School

02/22/79

1

Martin Luther King Lab School PTA

02/08/83

Mather High School

03/03/82

7

Mayor's Annual Youth Conferences 1973-1976

1976 >

3

McCracken Elementary School (Skokie)

10/15/99

3

Meadowbrook Elementary School

02/19/82

Melzer Elementary

01/10/83

Methedone Maintenance Clinic Staff

04/07/77

Mexican Community Committee

08/01/77

Middleton Elementary School

04/14/77

Montini High School

11/17/77

Morton Upper Grade Center

05/31/78

Multigraphics

02/09/88

National Louis University

03/02/00

Neighborhood Housing Services of Chicago

11/10/00

Nelson Elementary School

05/24/84

New Trier East High School

11/17/99

2

New Trier West High School

04/19/83

3

Niles East High School

11/07/79

11

Niles Elementary School

12/10/79

Niles High Schools Teacher Seminar

02/19/80

Niles North High School

03/14/01

18

Niles West High School

12/16/80

3

North Park Luther League

1975

Northshore Country Day School

05/06/81

1

North Suburban Dental Associates

03/23/00

2

Northeastern Illinois University - Chemistry Of Drugs Course

11/26/84

9

Northeastern Illinois University Health Classes

05/31/79

2

Northeastern Illinois University Health Fairs 1975-1977

1977

2

Northeastern Illinois University Teachers Workshop

1973

Northwestern University Kappa Kappa Gamma Greek Society

03/09/00

Northwestern University Peer Counselors

10/12/99

2

Northwestern University Faculty (Dental School)

11/18/97

1

Northwestern Univ. Dance Marathon Committee

02/16/93

Northwestern University's Faculty Seminar

05/17/79

Northwestern University's Health Service

04/19/79

1

Northwestern University Health Services (CME)

10/28/99

Northwestern University Student Greek Advisors

11/30/99

Northwestern University Greek Houses

03/09/00

Oak Park River Forest High School

10/22/81

1

Oakton Community College Biology Class

1976

Oakton Community College Public Speaking Class

1976

Oakton Community College Student Nurses

1976

Oakview Junior High School

03/01/78

Old Orchard Junior High School

11/12/87

3

Orchard Village Skokie

06/27/02

1

Ort

02/15/79

Our Lady Of Good Council Elementary School

04/04/77

Our Lady Of The Gardens Elementary School

07/20/78

Our Place Youth Center

1975

2

PADA Parents Against Drugs and Alcohol

10/13/98

Pearl Schack Memorial Cancer Fund Raisers

03/10/79

Pleasant Ridge Elementary School

01/06/84

2

Prarie Avenue Research Clinic

04/21/78

Project Girls Staff

06/21/77

Queen Of All Saints Elementary School

05/12/77

Rand McNally Corporation

11/21/97

3

Reed-Custer High School, Braidwood

11/17/89

Ressurection High School

09/23/82

4

Ressurection Hospital Smoking Clinic

01/03/77

Rhoden Library Community

1975

Ridgeway Hospital

1976

Rogers Elementary School

04/06/77

1

Roselle School

10/27/92

Rosenwald Elementary School

05/19/77

Rotary Club (Matoon, Illinois)

1976

Rotary Club (Skokie, Illinois)

08/12/86

Rotary Seminar

01/19/93

Rush North Shore Medical Center Diabetes Workshop

10/22/98

Rush North Shore Medical Center Nicotine Addiction Seminar

05/09/00

9

Rush North Shore Medical Center Teen Smoking Seminar

12/4/96

1

Rush Presbyterian St. Luke's Employees

06/16/93

Rush University Grand Rounds

01/12/93

Salvation Army

03/25/77

Scott Foresman

07/28/87

1

Senn High School

05/30/79

19

Senn Park Nursing Home

12/02/77

Skokie Health Department

12/16/03

27
Skokie Savings And Trust Employee Seminars

06/24/82

Skokie School (Winnetka)

11/5/98

Skokie Valley Hospital Oncology Nurses

10/09/81

Skokie Valley Hospital Weight Control Class

10/27/81

Skokie Valley Hospital's Cardiac Rehab

12/14/82

1

Skokie Valley Hospital's Careunit

03/09/83

1

Social Security Office Staff

06/16/77

St. Ambros Elementary School

12/15/77

St. Anthony's Hospital In-Service

07/18/78

1

St. Barnabus Elementary School

03/20/78

St. Bartholemews Elementary School

04/18/78

St. Casimers High School

05/19/78

St. Genevieve Elementary School

03/28/77

1

St. Francis Xavier School (Wilmette)

11/17/00

1

St. Johns Lutheran Elementary School

02/07/77

2

St. Julienna Elementary School

01/20/77

St. Mathias Elementary School

1975

1

St. Sebastion High Shool

11/10/78

5

St. Sylborsters Elementary School

01/12/78

Stanley Field Elementary School

05/09/94

14

Steinmetz High School

05/02/85

3

Stevenson Elementary School

03/09/82

2

Stevenson Elementary School

05/25/77

Stratford Home

04/19/78

Sullivan High School

10/04/77

9

Sunset Ridge Elementary School

01/20/84

1

Sunshine School, Niles

12/18/86

Taft High School

04/20/78

11

Teaching Health, Education And Motivation

03/03/78

Temple Judea Mizpah

02/20/00

Train The Trainer (Chicago)

02/22/77

1

Train The Trainer (Edwardsville, Illinois)

07/19/77

Train The Trainer (Springfield, Illinois)

07/20/77

Trustmark

09/08/99

Twin Grove Ivy Hall

10/16/92

U.O.P.

04/21/94

Northeastern Illinois University - Chemistry Of Drugs Course

11/26/84

9

Northeastern Illinois University Health Classes

05/31/79

2

Northeastern Illinois University Health Fairs 1975-1977

1977

2

Northeastern Illinois University Teachers Workshop

1973

Union Church Youth Groups

2

United Conveyer Corporation

03/23/82

University Of Illinois Medical School

02/11/78

1

Us Robotics

05/18/93

Village of Northbrook Employees

09/29/99

Washburne Jr High School

04/12/00

4

Wauconda High School

11/22/83

1

Wauconda Junior High School

04/18/85

1

WCLR Radio

08/04/83

WEAW Radio
West Chicago Community High School

05/17/77

West Lawn Public Library

10/05/78

West Pullman Elementary School

02/28/78

West Pullman Teachers In-Service Training

1977

West Town Boys Club

07/29/77

Wheeling High School

03/26/82

1

Whitman Elem. School (Wheeling)

02/27/90

William Meyers & Sons

03/29/88

Wilmette Jr High

11/10/98

Wilmette Optimists Club

03/24/81

Wind Radio

03/29/80

Winnetka Presbyterian Church

09/27/81

WOJO Radio

03/02/82

1

Womans Christian Temperance Union Evanston

07/09/81

Woodrow Wilson Elementary School

05/02/78

World Book Encyclopedia

11/23/92

WSEX Radio

07/06/84

1

WVVX Radio

07/21/81

W. W. Grainger

01/12/99

Zenith Data Systems

09/06/94