Discussion, comments and links related to Joel Spitzer's cold turkey quit smoking videos
Resources regarding interaction
between nicotine and stress
Introductory video with links to resources that we have that explain the interaction between nicotine and smoking.
I Have to Smoke Because of All My Stress!
Stress is considered a cause for smoking by many people. Actually, smoking is a cause of stress. Recent correspondence dealt with reasons people give for going back to smoking: social situations, parties, alcohol consumption and stress. This month I wish to amplify on stress.
In January of 1979, Chicago and vicinity was devastated by a major blizzard. Heavy snows fell just after the New Year crippling the area. Additional snowfall continued throughout the week. During this time period I was barraged with phone calls from participants of the November, 1978 clinic claiming to be terribly nervous, upset and anxious from "not smoking." Curiously, most of them were feeling well during the month of December. They had occasional urges which lasted only seconds and were quite easy to overcome. What they were experiencing in January was different. Many felt that they were on the verge of cracking up. To them life was "just no good" without their cigarettes. Was the anxiety they were now experiencing really a side effect from giving up smoking?
To any outside observer the answer to the mysterious intensification of perceived withdrawal was obvious. In fact, if our ex-smokers listened to radio or television or read the front page of any newspaper, they would have encountered a story on cabin fever. By simply comparing their symptoms with those accompanying cabin fever they would understand what was happening.
Attributing the anxiety to smoking cessation was transference of blame. In fact, they were having a normal reaction to an abnormal situation – confinement due to the blizzard. They would have had the same anxiety whether or not they had given up cigarettes.
The above story illustrates an atypical time period in which numerous people experience similar complaints. In everyday life inherent problems exist. Work, family, friends, and money can all contribute to daily distress. Ex-smokers often think that if they just take a cigarette during a stressful episode the situation will be solved. For example, consider a person who finds he has a flat tire in a parking lot during a freezing rain. When encountering this kind of misfortune, the ex-smoker's first reaction often is, "I need a cigarette." What will actually solve this problem is changing the tire, and driving off in a warm car. What would a cigarette do to help this situation? It only makes the person see the flat tire longer and freeze more. This adds up to greater frustration. The first puff will probably reinforce the addiction to cigarettes which is a much greater crisis than the flat tire ever was. In fact, taking the first puff almost always results in a bigger problem than the crisis that "caused" them to take the puff. Even in a real catastrophe, such as a death in the family, injuries, illnesses, flooding resulting in major property loss, bankruptcy and so on, a cigarette will not solve the problem. It will just add another major problem to the originally bad situation.
Remember, smoking cannot solve problems of daily living. No matter what the problem, there is a more effective way of solving it than smoking. In fact, a smoker's health risks are a real problem that can only be solved if they – NEVER TAKE ANOTHER PUFF!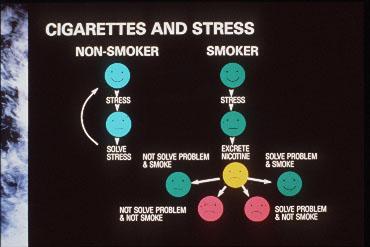 On the left side on the graphic above, you can see how non-smokers react to stress. Without it they are happy and comfortable, when encountering stress they lose this comfort and depending on its severity they can get either mildly annoyed or really upset. The resolution of the stress will normally bring the non-smoker back to the original state of comfort, after a little time of cooling down of course.
Smokers are much more complex. After the initial stress they feel like a non-smoker encountering stress, for a few seconds. But then the delineation occurs, the smoker's nicotine level depletes because of the urine acidity induced by the stress, and the smoker is kicked into a drug withdrawal state. The smoker has four ways to deal with the situation now.
First, the smoker can just smoke a cigarette. Well low and behold if the smoker does this he or she will feel "better." He or she will not feel good; he or she just won't be feeling withdrawal for the moment but still be feeling the initial stress. In essence, he or she will feel like a non-smoker under stress, not great, but not in withdrawal either.
The second way a smoker can handle the stress is to solve it and also smoke a cigarette. This results in one happy smoker. No stress now and no withdrawal, life is good at the moment. The feeling of bliss is basically the same feeling a non-smoker has who resolves his or her stress.
But then there are the other two scenarios. The smoker can solve the problem but not smoke. Here is the kicker here, the problem is resolved but the smoker is still in withdrawal, the nicotine level has dropped and problem resolution has no way to stop the nicotine depletion, only a cigarette can do that.
The worst of all situations is the smoker who cannot solve the problem and also cannot smoke a cigarette. This is a miserable situation to ever be in. You normally don't want to be around a smoker in this situation let alone being one yourself. Many smokers find themselves facing this dilemma daily since many jobs and social settings do not allow smoking yet constantly force the smoker to face stresses.
When you quit smoking these last four reactions to stress become a thing of the past. You still face stress, but you no longer have to face drug withdrawals induced by it. In essence you deal with stress in a totally different way when you don't have chronic drug withdrawals exaggerating it.
To stay in the position of being able to handle stresses with greater clarity and minimal discomfort always know that no matter what the stress, to avoid it having any long lasting and life threatening complications always remember to never take another puff!
Joel
Related resources:

© Joel Spitzer 2018