New Year's quit smoking
resolution up in smoke?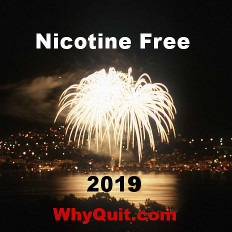 Never could there be a better moment to end one's gradual self-destruction than before that next assault by smoke's more than 200 toxins, which include up to 81 known cancer causing chemicals.
According to the new Surgeon General's report, more smokers than ever – nearly a half million – will pass the point of no return during 2019 and smoke themselves to death. Sadly, nearly all were thinking that there was still time to get serious, stop and reverse things. They were wrong. Dead wrong!
So how do most smokers succeed at quitting. By ignoring pharmaceutical industry quitting products. In fact, according to a July 2013 Gallup Poll, more smokers quit smoking cold turkey than by all other methods combined.
And what percentage succeeded by use of Nicorette nicotine gum? After 30 years and billions spent on marketing, according to the Poll only 1 in 100.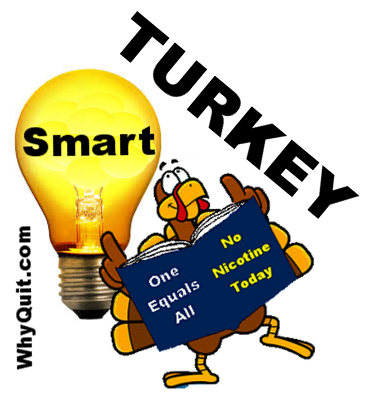 Talk about impossible. Ask yourself, did that 1% succeed because of having toyed with nicotine or in spite of having done so?
The Net is loaded with high quality cold turkey quitting tools. Drawing 2.2 million unique annual visitors, WhyQuit is the Internet's leading cold turkey quit smoking site. There, visitors find gripping motivational stories, hundreds of original cold turkey articles, more than 200 video lessons, two free quitting ebooks ("Never Take Another Puff" and "Freedom from Nicotine - The Journey Home") and are supported by two cold turkey quit smoking support groups, Turkeyville, Facebook's most popular quitting group, and Freedom, a Yuku message board.


Share, save or print this WhyQuit article
Hashtags: #coldturkey #quitsmoking #stopsmoking
How to Quit Smoking
Read our free quitting e-books
Read both and watch knowledge destroy quitting anxieties!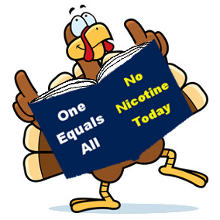 Discover Smart Turkey Quitting
Knowledge is a Quitting Method

Article written January 23, 2014 and page last updated December 25, 2017 by John R. Polito