Luiz Jose Costa, 36, Brazilian music star: lung cancer
Wilhelmina Cooper, 40, modeling pioneer: lung cancer
Judy Holliday, 43, actress: throat cancer
Chris "Punch" Andrews, 43, Canadian radio DJ: lung cancer
John Cipollina, 45, guitarist: emphysema
Nancy Gore Hunger, 46, sister of V.P. Al Gore: lung cancer
Lon Chaney, 47, actor/director: lung cancer
Mary Wells, 49, singer ("My Guy"): larynx cancer
Jack Cassidy, 50, actor: died in a fire from smoking in bed
Carl Wilson, 51, musician (Beach Boys): lung cancer
Lloyd Haynes, 52, TV actor (General Hospital): lung cancer
Eddie Kendrick, 52, singer (Temptations): lung cancer
Roy Orbison, 52, singer ("Pretty Woman"): heart attack
Jimmy Dorsey, 53, musician, band leader: lung cancer
Lindley ("Spike") Jones, 53, band leader: emphysema
Jack Wild, 53, actor (Artful Dodger in Oliver): mouth cancer
Mark Belanger, 54, baseball shortstop Orioles: lung cancer
Michael Landon, 54, actor - heavy smoker: pancreas and liver cancer
Larry Gilbert, 55, PGA golfer: lung cancer
Susan Hayward, 55, actress: lung cancer
Lee Remick, 55, actress: lung and liver cancer
King George VI, 56, Father of Queen Elizabeth II: lung cancer
Betty Grable, 56, "pin-up" girl, actress: lung cancer
Doug McLure, 56, TV actor (The Virginian): lung cancer
Eddie Rabbitt, 56, singer/song writer: lung cancer
>
Patrick Swayze, star of "Dirty Dancing" and "Ghost" died on September 14, 2009, after a two year battle with pancreatic cancer. According to Johns Hopkins University's
Pancreatic Cancer Research Center
, "cigarette smoking is one of the biggest risk factors for developing pancreatic cancer ... associated with a 2-3 fold increased risk." A heavy smoker, Patrick openly admitted his belief that smoking "
probably
"
contributed
to his cancer. But even after being diagnosed he continued smoking, with each puff adding additional
nicotine
and
polycyclic aromatic hydrocarbons
, which promote pancreatic cancer. If smoking robbed us of Patrick, why can't it rob us of you?
Humphrey Bogart, 57, actor ("Casablanca"): esophagus cancer
Wolfman Jack, 57, music disk jockey: heart attack
Edward R. Murrow, 57, reporter: lung cancer
Will Thornbury, 57, modeled for Camel TV ads: lung cancer
George Harrison, 58, musician (The Beatles):
lung cancer
R.J. Reynolds, 58, tobacco company founder: emphysema
R.J. Reynolds, III, 59, tobacco company heir: emphysema
Clark Gable, 59, actor ("Gone With The Wind"): heart attack
Anne Ramsey, 59, actress (Goonies - Mama Fratelli): throat cancer
Non-famous young victims
Ready to end your self-destruction?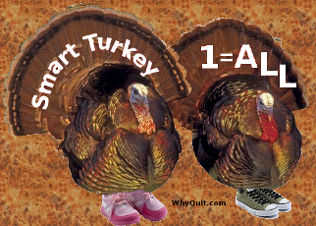 Explore Smart Turkey Quitting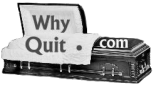 WhyQuit.com WhyQuit is the Internet's oldest forum devoted to the art, science and psychology of cold turkey quitting, the stop smoking method used by the vast majority of all successful long-term ex-smokers.
Nicotine Addiction 101 WhyQuit's guide to understanding nicotine dependency.
Nicotine Cessation Topic Index An alphabetical subject matter index to more than a thousand nicotine cessation articles, videos and support group discussions.
Joel's Library Joel Spitzer began presenting stop smoking clinics and seminars in 1976. WhyQuit's education director since 2000, Joel's Library is home to his life's work. It includes Joel's "Daily Quitting Lesson Guide." The Guide walks new quitters through the first two weeks of smoking cessation, recommending daily videos to watch and articles to read. It's also home to more than a hundred original short stop smoking articles, to "Never Take Another Puff," Joel's free ebook, and to his ever growing collection of more than 400 video stop smoking lessons.
Joel's Stop Smoking Video Index An alphabetical index to Joel's 400 videos. Each link opens a webpage where Joel shares the video together with related articles and links.

"Freedom from Nicotine - The Journey Home" Written by John R. Polito, a former 30-year heavy smoker and WhyQuit's 1999 founder, Freedom from Nicotine shares the science underlying nicotine dependency and successful abrupt nicotine cessation. Whether hooked on cigarettes, e-cigarettes (e-cigs), bidis, kreteks, a pipe, hookah or cigars, on dip, chew, snuff or snus, or on the nicotine gum, lozenge, spray, inhaler or patch, the book provides a road-map home.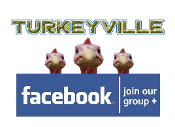 Turkeyville Imagine surrounding yourself with more than 10,000 cold turkey quitters. Turkeyville is a Facebook support group exclusively for cold turkey quitters. The group's primary focus is helping newbies navigate the first few days. Just that first brave step, yes you can!
Freedom Freedom was WhyQuit's original 1999 stop smoking support group. No longer accepting members, today Freedom's 453,000 archived member posts serve as a valuable source of recovery insight and understanding.