Smokeless Tobacco
Quitting Tips
Addicted to smokeless tobacco?
Ready to quit and reclaim your mouth, mind and life?
By age 14 Gruen Von Behrens, pictured above, was seriously hooked on oral tobacco. At his peak he consumed more than half a can a day. Then it happened. At 16 he noticed a small white spot on his tongue, a spot that would gradually start to grow.
Sean Marsee, pictured to the right, started using oral tobacco at age 12. He was 18 when he opened his mouth and showed his mother an ugly sore on his tongue. A registered nurse, she took one look and felt her heart sink. Guern survived. Sean didn't.
Today oral tobacco lesions (leukoplakia) are being detected in about 1.5% of students, projected at 300,000 nationally, with substantially greater incidence among snuff than chewing tobacco users. But in only 26 per 100,000 cases each year do the white spots actually develop into oral cancer. That means that among the 5 million U.S. smokeless tobacco users, at most there are 1,300 oral cancer nightmares each year, nightmares which kill about half within five years.
Looking at such statistics, the rationalizing snuff, snus, dip or chew addict probably won't put death from oral cancer at the top of their list of concerns. Likewise, a 2.23 greater risk of sudden heart attack (four times greater for chewers who also smoke) may not be sufficient to motivate quitting without first experiencing stabbing type chest pains. Even then, getting serious about quitting often requires a doctor's "quit or drop-dead" ultimatum. But what smokeless tobacco users would be wise to note are growing concerns that long-term nicotine use may actually be eating away and destroying their brain.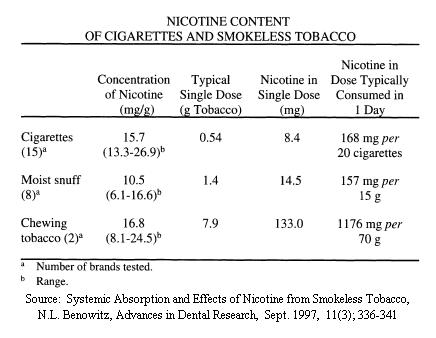 An increasing number of experiments show that long-term nicotine use reduces the number of brain neurons, increases the signs of cell death in brain tissue and impairs working memory. A September 2006 study used MRIs to examine the brains of smokers. It found significantly less brain gray matter volume and density, with loss of gray matter proportional to the number of years smoked.
According to the study's author, Dr. Jurgen Gallinat, "animal data indicate that nicotine application has brain-damaging properties. Therefore, the results of our study can be explained by effects of nicotine. This may imply that it is irrelevant if nicotine is administrated by cigarettes, chewing gum, or oral tobacco products."
Smokeless tobacco delivers high levels of nicotine quickly. Depending on your level of tolerance, blood nicotine concentrations throughout the day may actually be higher than seen in smokers.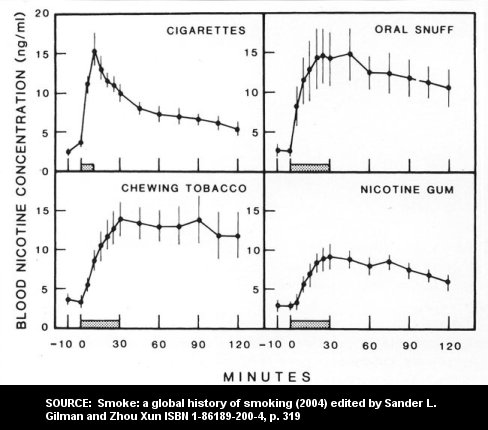 Imagine nicotine brain memory destruction being so great that you begin noticing sentences you've written are missing words, that remembering names seems nearly impossible, when you can't remember why you walked into a room or when you forget you turned on a stove burner.
Nicotine is a super toxin. Although debate about its lethalness in humans (which is difficult to prove), in animal studies nicotine has been found to be deadlier than diamondback rattlesnake venom, more lethal than strychnine and three times deadlier than arsenic. A natural insecticide, nicotine has no business inside the human mouth, bloodstream or brain. But as 90% of smokeless tobacco users have already discovered, quitting isn't easy, as nicotine is extremely addictive.
Nicotine hijacks the brain's priorities teacher, assigning nicotine use the same priority as it assigns to eating food. Wanting for food, wanting for nicotine; craves for food, craves for nicotine. Real drug addicts in every sense, the wanting and urges felt by the nicotine addict flow from the same brain dopamine pathways as the wanting felt by the alcoholic, and the heroin or methamphetamine addict. Once hooked, the only remaining question becomes, on which side of dependency's bars will we spend the balance of life?
Your addiction long ago buried all memory of what life without nicotine was like. You begin to falsely believe that using defines who you are, gives you your edge, helps you cope and that life without it will be horrible. Quitting fears cut both ways. You begin to fear success as much or more than failure, as your mind simply cannot imagine that life without nicotine is worth living.
The real "you" now lies buried deep beneath a pile of the most durable memories the mind may be capable of generating, dopamine "aaah" wanting satisfaction memories recorded at the moment of replenishment. Dependency researchers call the brain's dopamine pathways our "pay attention" circuitry.
These pathways are designed to ensure that species survival activities such as accomplishment, eating when hungry, drinking when thirsty, nurturing, companionship and reproduction, get noticed, are remembered and remain central to our lives. But by chance, once inside the brain, nicotine fit the receptor locks responsible for activating our dopamine pathways.
Like having every water facet in the house turned on, far more dopamine is flowing far longer than normal inside the obedient nicotine addict's brain. But the brain fights back. The primary tactic used in specific brain regions is called upregulation, which actually leaves the brain desensitized to natural dopamine flow.
Here the brain grows millions of extra receptors for nicotine in a number of different brain regions, leaving the density of receptors 100% to 300% greater than found in non-users.
This causes most nicotine addicts to gradually need to use increasing amounts of nicotine in order to achieve the same "aaah" wanting satisfaction sensation. A cycle of "tolerance" is born as each time the addict responds by increasing nicotine intake, the brain responds by growing or activating additional receptors, causing further de-sensitization.
Nicotine dependency recovery is a temporary journey of readjustment where the smokeless nicotine user allows their brain the time needed to physically down-regulate the number of receptors and restore natural sensitivities. It's where they develop the patience needed to allow their subconscious mind time to extinguish subconsciously conditioned nicotine feeding cues. On a conscious thinking level, it's the time and honesty needed to move beyond years of nicotine use rationalizations that attempted to justify and explain that next mandatory feeding.
Do you recallr the calm and quiet that resided inside their mind before nicotine took control, going days, weeks and months without once wanting for more? It's unlikely. Ready to return home and sample the "real" you? The below quitting tips offer the potential to make your temporary journey of recovery far less challenging than you might imagine.
We also invite you to visit whyquit.com for additional motivational resources, to download a copy of our free ebook Freedom from Nicotine - The Journey Home, to watch our more than 200 free quitting videos, or to visit our two free online support group's Turkeyville, Facebook's most popular quitting group, or Freedom our original Yuku messageboard group.

Nicotine Dependency Recovery Tips
About This Quitting Tips Guide
This quitting tips list was created by John R. Polito, a recovered nicotine addict, nicotine cessation educator and editor of whyquit.com. These tips are primarily a product of medical studies and lessons from Joel's Library ( https://whyquit.com/joel ), an insightful collection of 95 short quitting articles available for download as a free electronic PDF book at WhyQuit.com (https://whyquit.com/joel/). While there, watch a few of Joel's new free video quitting lessons.
Be sure to print and share or e-mail these quitting tips to friends and loved ones addicted to nicotine. Not discovering the "Law of Addiction" through the school of hard-quitting-knocks or learning it from booklets such as this is a horrible reason to watch a once sharp mind gradually lose its edge. These quitting tips may be reproduced and shared for all health education purposes, so long as it there is never any charge or cost to recipients. Comments may be addressed to John R. Polito, 106 Aldrich Place, Goose Creek, SC 29445, (843) 797-3234 or via email to john@whyquit.com.
© WhyQuit.com 2014
---
Freedom from Nicotine
The Journey Home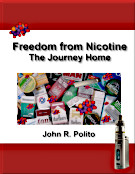 Use knowledge to destroy quitting fear and anxieties!
---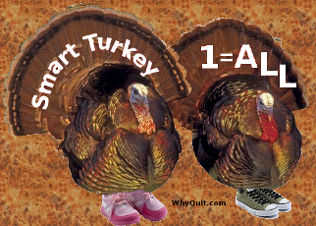 Learn More About Smart Turkey Quitting
Knowledge is a Quitting Method