Are cessation pharmacology quit smoking products such as NRT, Chantix and Zyban a sham upon smokers?
What All Successful Quitters Have in Common
Tomorrow there will be hundreds of millions of comfortably recovered nicotine addicts alive on planet earth and they will all have one thing in common. They didn't put any nicotine into their bodies today. A 1990 study found that 93.5% who lapsed and "tasted" one cigarette during the first three months of quitting went on to experience full relapse to smoking. It's called the "Law of Addiction."
Many master the "Law of Addiction" through repeated relapse and the school of hard-quitting-knocks. Only a tiny fraction -- probably less than 1 percent -- learn the "Law" at education oriented forums such as this. Most quit in ignorance of nicotine's ability to foster relapse. Sadly, that ignorance carries potential to someday combine with to again deprive them of freedom.
A basic understanding that just one puff or hit will cause up to 50% of our brain's a4b2-type dopamine pathway receptors to become occupied by nicotine can be highly protective. While most walk away from trying to cheat when quitting feeling like they've gotten away with it, we cannot cheat the design of brain circuitry whose job it is to make activating events nearly impossible, in the short term (the time needed for recovery), to forget or ignore. Our dopamine pathways would again reassign nicotine use the same priority as they assign to eating food. And it wouldn't be long before we found our brain wanting, conspiring or even begging for more.
Open Lies and Hidden Truths - We nicotine addicts have been lied to by so many for so long that it's growing harder to believe anyone. Probably the most damaging and deplorable lies of all are being told by those seeking to increase their product or procedure's market share by false marketing that seeks to convince smokers that few nicotine addicts successfully quit cold turkey, that you have to be a superhero to do so, or that it requires Herculean effort to succeed.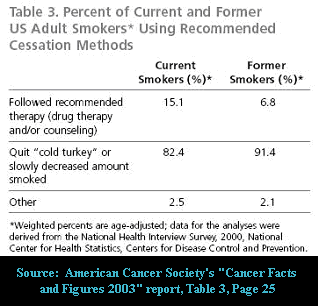 To the contrary, even today with smokers being drowned in a sea of quick-fix cures which include alternative nicotine delivery devices, designer drugs that mimic nicotine, magic herbs, hypnosis, Smoke-Away, acupuncture, lasers, and every gimmick and ploy imaginable, a July 2013 Gallup Poll found that more ex-smokers quit cold turkey than by all other methods combined, that only a tiny fraction of all successful ex-smokers had used approved quitting products (just 8 percent).
That finding is consistent with a 2006 Australian study which followed the smoking patients of 1,000 family practice physicians and found that 88% of all successful quitters quit smoking cold turkey, and that cold turkey quitters were twice as likely to succeed as those using the nicotine patch, nicotine gum, nicotine inhaler or Zyban (bupropion).
Sadly, organizations such as the American Cancer Society have historically demonstrated a lack of quitting method recommendation integrity in accepting millions in contributions from companies granted the right to display the Cancer Society's trusted logo on their quitting products.
Smokers Make Easy Prey - While normal to dream of a cure for nicotine dependency, we must not close our eyes and minds to actual quitting results in an arena where the most ridiculous or even fraudulent quitting scheme imaginable should statistically generate quitting testimonials from 10-11% of users at six months (the "on-your-own" quitter's own natural quitting odds). It makes nicotine addicts naturally ripe for fraud. It's also costing millions their lives. And instead of government battling against quitting fraud, most become active participants in fostering it.
Let's pretend that we concoct a new magic quit smoking product called Billy Bob's Lima Bean Butter. What's amazing is that the 10-11% who use our product, who would have succeeded anyway (unless it somehow undercuts their own natural odds of success as does NRT), will each deeply believe that our butter was almost entirely responsible for their success. No one will be able to convince them otherwise.
And we could double our butter's 10-11% six-month success rate by testing it on quitters quitting while using tools known to have their own proven effectiveness, tools such as ongoing group or telephone support, cessation education programs, coping skills development, quality self help materials (which are rather rare), cognitive behavioral therapy, and group or individual counseling. It's a way to steal instant credibility and it occurred in almost all early NRT, Zyban and Chantix clinical studies. Pfizer's five original varenicline studies (Chantix and Champix) broke records for the number of counseling sessions, with up to twenty-five. Yet marketing awards all credit to varenicline.

How long should it have taken for allegations of fraud to start flying once it was realized that over-the-counter nicotine replacement products were only generating a 7 percent six-month quitting rate, that 93% buying and trying the nicotine gum or patch were relapsing?
As I asked in a letter published in the British Medical Journal in November 2013, "Despite 39 years and billions spent on marketing, only one in 100 US ex-smokers credit nicotine gum for their success, with all approved products combined accounting for only 8% of successful cessation. How much closer to consumer fraud can approved products get?"
As suggested by the below study reviews, it should bother all of us that during the past decade we have not seen a single independent, long-term (6 months or greater) real-world, population level quitting method survey in which those purchasing and using replacement nicotine did as well as those quitting without it. Such smoker quitting surveys are inexpensive, quick, easy to generate, and successful quitters have absolutely no reason to lie about how they finally achieved success.