WhyQuit's Smoking Initiation Survey Questions
Below are 10 short questions.
Select the best answer and then click "Record My Answer"
to add your response to WhyQuit's survey.

https://whyquit.com/whyquit/Survey_Initiation1.html

Please share this survey with smoking and ex-smoking friends.
The data gathered may provide youth with important smoking insights.


Sincere thanks to "you" for participating and to Peter at Free Web Polls!
---
WhyQuit's basic "how to quit smoking" video
---
Read our free quitting e-books
Read both and watch knowledge destroy quitting anxieties!
---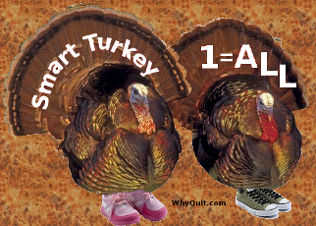 Learn More About Smart Turkey Quitting
Knowledge is a Quitting Method