WhyQuit's Smoking Initiation Survey Questions
Below are 10 short questions. Select the best answer and then click "Record My Answer" to add your response to WhyQuit's survey.

Please share this survey with smoking and ex-smoking friends.
The data gathered may provide youth with important smoking insights.


How to Quit Smoking
Our Free E-books
Read both & destroy fear driven anxieties!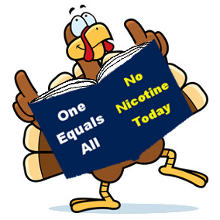 Discover Smart Turkey Quitting
Knowledge is a Quitting Method

Created 05/07/05. Survey closed 06/03/05. Page eformatted 09/14/18 by John R. Polito