Free Quit Smoking Books, Guides and Tips
"Never Take Another Puff" - a 149 page PDF quit smoking book by Joel Spitzer of Chicago, the Internet's leading authority on nicotine dependency recovery. Joel's free book is a wonderful collection of 98 short quitting articles on almost every cessation topic imaginable. There is also a 212 Page Edition in a different format that contains an addtional article on quitting while using alcohol. Download Joel's book and discover why this free quit smoking book has now been dowloaded more than one million times.

"Freedom from Nicotine - The Journey Home" - a 291 page free PDF quit smoking book written by John R. Polito, WhyQuit's 1999 founder and director. John makes the science of nicotine addiction understandable, while shattering the laundry list of lies we invented to explain that next nicotine fix. It details each layer of recovery (physical, emotional, subconscious and conscious) while providing effective tips on how to diminish the impact of each, and minimize risk of relapse.

"Joel's Library" - the online HTML version of Joel Spitzer's "Never Take Another Puff" book presented as individual articles. Also home to Joel's more than 200 video quit smoking lessons and his Daily Quitting Guide.

"Student and Young Smoker Quit Smoking Guide" - Loaded with links, this quitting tips guide contains brief accounts of Bryan's and Noni's tragic stories and is intended for online use by younger smokers of high school, college, or university age, but can be printed and shared.

"Nicotine Cessation Tips" - Ideal as a physician patient handout, this six page quitting tips guide was written as an aid to dependency recovery from any form of nicotine delivery, including cigarettes, oral tobacco (dip, chewing tobacco, snuff or snus), NRT (nicotine gum, lozenge, inhaler, spray, tablet or patch), cigars and pipes. It is offered in three formats:



"Quit Smoking Tip Sheet" - an HTML version of Joel's top 18 quitting tips."
Non-commercial health, education, government, civic and non-profit groups are invited to print and share any or all of the above documents. Our only requests are that there never be any charge or cost to recipients, and that all content, copyrights and attributions remain as is. Our content may NOT be mirrored and shared elsewhere on the Net.
---
Our free quitting e-books
Read both & demolish quitting anxieties!
---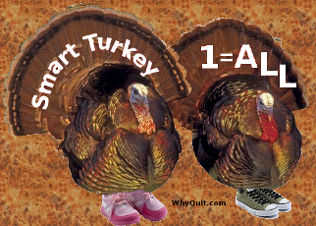 Learn More About Smart Turkey Quitting
Knowledge is a Quitting Method