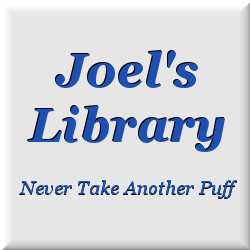 Day 4 Stop Smoking Lessons
Welcome to "Day Four" of recovery and congratulations on inhabiting a nicotine-free body and moving beyond peak withdrawal!
Through the worst, today's 45 minutes of viewing focuses significantly on correcting years and years of junkie thinking; the explanations we invented to help justify that next cigarette or smoking more than normal.
Again, beneath today's videos and supplemental reading" you'll find Joel's Daily Quitting Lesson Guide with a link to tomorrow's recommended Day Five stop smoking lessons.
If you discovered Joel's Guide on quitting "Day Four," as time permits be sure to review WhyQuit's Pre-Quit, "Day One," "Day Two," "Day Three" and "Day Four" lessons, as they lay the foundation upon which durable recoveries are built.
Today's Videos
Supplemental Day Four Reading
Daily Quitting Lesson Guide
Joel Spitzer has provided smoking cessation and prevention services since 1972, first as a volunteer speaker and then a member of the professional staff of the American Cancer Society. Later he served as smoking programs coordinator for the Rush North Shore Medical Center's Good Health Program, and then as a consultant for the Skokie Illinois Health Department and the Evanston Department of Health and Human Services, providing state funded smoking cessation clinics and seminars for the two Chicago suburban communities. Here at WhyQuit, Joel has served as education director since June 2000.