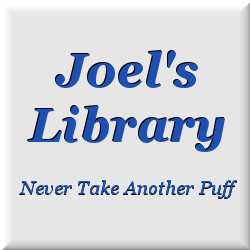 Day 6 Stop Smoking Lessons
Congratulations on five days of freedom and healing, and welcome to day six. His weight control lesson aside (unless needed - and it often is), today Joel has selected 56 minutes of video viewing.
Below today's lessons you'll find Joel's Daily Quitting Lesson Guide with a link to the Guide's next stop, "Starting Week Two."
If just now discovering this Guide on your 6th day, as catch-up, we've put together 90 minutes of videos focusing on why stopping smoking is so important, Joel's basic tips on how to quit smoking, and how to stay free, to NTAP!
Today's Videos
Supplemental Day Six Reading
Daily Quitting Lesson Guide
Joel Spitzer has provided smoking cessation and prevention services since 1972, first as a volunteer speaker and then a member of the professional staff of the American Cancer Society. Later he served as smoking programs coordinator for the Rush North Shore Medical Center's Good Health Program, and then as a consultant for the Skokie Illinois Health Department and the Evanston Department of Health and Human Services, providing state funded smoking cessation clinics and seminars for the two Chicago suburban communities. Here at WhyQuit, Joel has served as education director since June 2000.