Your 2019 Quit Smoking Keys
Make your 2019 New Year's quit smoking resolution come true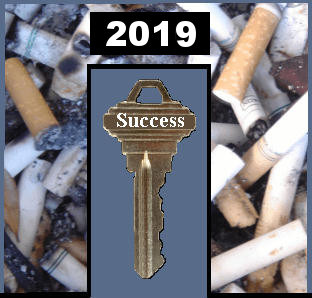 Is this the magic moment when you at last quit smoking? Will this 2019 New Years attempt be a keeper? Are you serious this time? Will you stick with this year's resolution and begin reversing risks that could add more than 5,000 extra days to your life expectancy? What tools have you found to navigate this temporary period of re-adjustment called "recovery?"
Statistically, most New Year's 2019 smokers reading this article will attempt to stop smoking cold turkey. A wise choice! Contrary to false representations by those selling a growing array of quitting aids, the vast majority of all successful quitters during 2019 will again be cold turkey quitters.
How can a cold turkey quitter dramatically enhance their odds of success? By becoming a smart turkey! www.WhyQuit.com is the Internet's leading cold turkey quitting destination. Visitors to WhyQuit will find four free tools: (1) motivation enhancement resources; (2) a massive library of original cessation education articles; and (3) two free online quit smoking upport groups, Freedom and Turkeyville.
Founded in July 1999, the beauty of WhyQuit is that its tremendous growth has been almost entirely due to word-of-mouth and to wonderful search engines like Google, that somehow are able to measure and rank sites based upon popularity.
Built entirely upon a budget of love, WhyQuit sells nothing, has no external funding source, has no need for tax exempt status, actually declines all donation offers, and has no need for a checking account. It has been built entirely by deeply committed volunteers who fund their work.
WhyQuit has just one unifying objective: to help visitors remain nicotine free just one hour, challenge and day at a time - to help them to Never Take Another Puff!

Your 2019 Keys to Freedom










How to Quit Smoking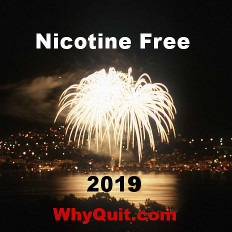 Related New Year's Quit Smoking Resolution Reading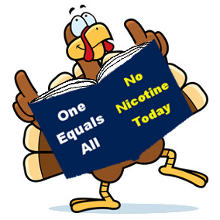 Discover Smart Turkey Quitting
Knowledge is a Quitting Method